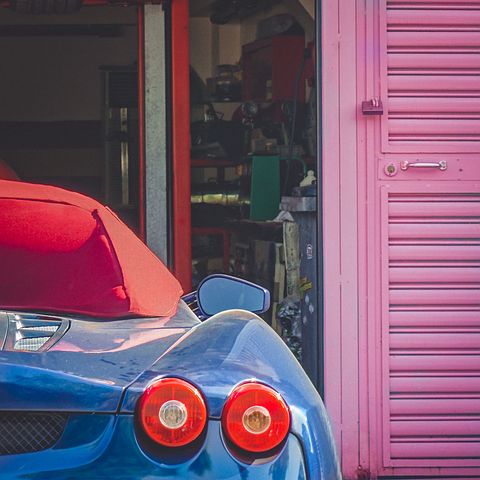 Garage is always overlooked, because it is often seen as a separate entity to the house and we don't spend as much time in the garage as we do at home.
But let's face it: Garage is often the culprit of a high energy bill in the winter and summer, as energy produced by heating and cooling system can be lost through a garage door.
Not only will insulating the garage doors help to save household utility cost and extend the life of your HVAC system, an effectively insulated garage will make your home a more comfortable place to live overall.


In addition to these top rated garage door insulation kits recommended by users –
Here are 9 garage door insulation videos packed with DIY ideas and tips from homeowners, that will inspire you to start your home improvement project today!
This post contains affiliate links that we may earn a small commission from your purchases.


#1: Garage Insulation, Adding Outlets, and OSB Panels.
Top of our list is this brilliant project by April Wilkerson.
When the husband went away on a business trip, his wife completed a superb project with the garage insulated, outlets added, and the OSB panels installed!
Some of the items she used were:
A very lucky man indeed.





#2: Insulate Garage Door with Fiberglass Insulation Kit
Eric Lindberg shared a detailed step by step tutorial on how to insulate your garage door.
He used the popular Owens Corning' R-8 Garage Door Fiberglass Insulation Kit.






#3: DIY Tips on Polystyrene Insulation of Garage Door
David Stanton shows you how to insulate a garage / shop door the easy way.
He also shared some great tips on how to measure the dimensions of each panel individually before polystyrene insulation installation.
It took David just 20 minutes to create a sound deadening and comfortable temperature inside his garage.





#4: Garage Door Insulation: Before vs After Results
After your garage door insulation project, how do you measure its effectiveness?
The Southern Engineering guy used Seek Thermal Compact Thermal Imaging Camera designed for Android and iOS devices, to find out how his garage door is performing.
Amazing results!
He can certainly saved lots of money from electricity bills reduction!

Recommended Read: 15 Awesome House Insulation Ideas To Save BIG Money






#5: Garage Door Insulation DIY Idea with Reflectix
Mark Jenkins shows how he insulated his garage doors by using Reflectix to create a radiant heat barrier. The purpose of this project is to reduce heat loss in the form of radiant energy through the winter months, and increase visible light.
He used Reflectix bubble pack to insulate his garage doors, and drastically improved the space to be more comfortable in winter and summer.
According to Mark, "Reflectix radiant barrier reflects 95% of radiant energy and has a calculated thermal resistance value of R1.1".
A cheap and simple DIY solution!






#6: Excellent Video on How to Insulate a Garage Door
Excellent tips by Nick Ferry that not only he showed how he insulated his garage door —
but there are even animated illustrations to help the viewers understand better!
Nick utilized his tools very well in this DIY project, so watch this video and get some inspirations from him!
Recommended Read: 5 Best Thermal Imaging Camera for Home Improvement Projects





#7: Garage Door Insulation Kit Installation
Check out the DIY garage door insulation project by Lam Le in video below.



You don't necessarily use the Reach Barrier Do It Yourself Garage Door Insulation Kit, because there are many reflective panels that can be used as energy-efficient garage insulator to retain heat in the winter and deflects heat in the summer, while also helping to block outside noises.



#8: Insulate Garage Panel Roller Door
The Nev's Garage guy insulated a panel roller door and kept the temperature more stable in his garage, by using Polystyrene foam sheeting.





#9: DIY Garage Door Insulation With Foam Board
Mark Mather completed the insulation of his garage door on a budget, for under $100.
In this video, he showed step by step on how he did it with foam boards.




Do you have any great garage door insulation ideas or experience?

Leave comments and share your tips!