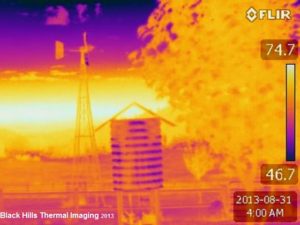 Since astronomer Frederick Herschel discovered infrared light in 1800, research and technology development has led to wide applications of thermal imaging, expanded from military and defense sector to various consumer uses.
Among them, thermal monocular allows user to see and detect heat signature of objects at a distance, making it a very powerful solution for many fields of application —
including law enforcement, home security, search and rescue, wildlife survey, and hunting.
While thermal imaging solutions have become much more affordable over the years, research among all the different brands and models to decide on one thermal monocular with good value can be quite a daunting task.
This comprehensive guide covers the 5 best cheap thermal imaging monocular for the money, including video reviews and side-by-side comparison, to save your time and effort.
FLIR Scout TK

Thermal Monocular

FLIR Scout III 320
Thermal Imager

Pulsar Axion XM30S
Thermal Monocular

The Best Cheap Thermal Imaging Monocular?
When it comes to choosing the best cheap thermal monocular, it is a head to head fight between Leupold LTO Tracker and FLIR Scout TK, as these are the 2 established thermal imaging monoculars available for under $1000 on the market.
We review through both of these inexpensive options, including side-by-side comparison.
#5: Leupold LTO Tracker Thermal Night Vision Monocular
Designed and assembled in the United States, the durable and waterproof LTO tracker is a handheld thermal monocular manufactured by a big brand in the optics, Leupold —
an American manufacturer that makes a wide array of telescopic sights products with various uses like in hunting (of hog / coyote / predator / deer / coon / squirrel etc), search and rescue, law enforcement, and much more.
Leupold LTO tracker can detect and interpret heat signatures from objects with its infrared sensor of 206 x 156 resolution (35,256 pixels). It also utilizes a digital zoom which allows you to zoom into the object up to 6x magnification, and gives you a closer look at an object that is far away during the day or in the night.
This thermal monocular is light enough to take on every hunting activity, with its long 10 hours continuous use of CR123 battery life. It can help you in scouting for targets, following blood trails, and recovering a recently downed game in dense brush or thick woods.
The Leupold LTO tracker also serves the home security purposes very well as it allows you to see what could be in your backyard, while enhance situation awareness in your surroundings.
This thermal monocular with 30 Hz frame rate is equipped with a 240×204 resolution LCD. The images are displayed in a clear manner to show the object you are looking at.
The monocular has 6 colour pallets which you can select from. It has three buttons that allow you to perform functions like changing the colour pallets, zooming in and out and also turning on and off the device.


One common negative comment from the users is regarding the manufacturer specification that indicates Leupold LTO Tracker can detect objects from a distance of up to 600 yards.
In realistic terms, this Leupold thermal tracker can detect objects from a distance of about 100 yards (which is similar to FLIR Scout TK) for image quality to be retained.
Watch the "Leupold LTO Tracker Detection Range" video below and take a look by yourself:
While this thermal monocular is a great budget tool for the hunting enthusiasts where you can carry it in your pocket and use it whenever you spot and track your target — Leupold LTO tracker is not designed to handle firearm recoil, according to its manufacturer. So it should not be mounted on a rifle for you to take shots from far and in complete darkness.
If you are looking for thermal imager that can be mounted on your rifle, then you should check out this separate review guide on thermal night vision riflescope.


Finding a thermal monocular that fits most budgets can be challenging, but Leupold LTO Tracker is certainly one of the cheapest thermal imaging monocular on the market today.
You can check out its user reviews and latest price >> here.


Alternatively, Leupold LTO-Tracker 2 and Tracker 2 HD thermal viewers are also available – in which the video below covers the key features of these upgraded versions, including sample images.




#4: FLIR Scout TK Pocket-Sized Thermal Monocular
If we do a side-by-side comparison on the key product specifications of Leupold LTO Tracker vs FLIR Scout TK, both of these cheapest thermal imaging monoculars have their respective advantages and disadvantages over each other, as shown in the table below.
For example, if you prefer an inexpensive thermal monocular with video recording function and/or lens protection cap, then FLIR Scout TK is certainly the one that you should consider, because Leupold LTO does not have these features.


Leupold LTO-Tracker
Thermal Viewer

30 Hz Frame Rate
206x156 Thermal Sensor
240x204 Pixels Display Resolution

600 yards Detection Distance

<3 seconds Startup Time
10 hours CR123 Battery Life
No Video Recording function
No lens cap
FLIR Scout TK
Thermal Imaging Monocular

<9 Hz Video Refresh Rate
160 × 120 Thermal VOx Microbolometer
640 × 480 LCD Display
Detect Man 100 yards
<5 seconds Startup Time
>5 hours Battery Life
Built-in Video Recording function
With Lens Cap

Flir has been in the business of manufacturing thermal imaging products for more than 30 years now, which is why it is one of the most trusted companies when it comes to thermal imaging.
The FLIR Scout TK pocket-sized thermal monocular is specifically designed for outdoor purposes. If you are planning on taking a trip into the wilderness, then this ultra-portable thermal monocular that only weighs 6 ounces is a great choice. As one of the lightest thermal monocular in the market, it can be easily used with one hand.


Comes with 160 x 120 pixel FLIR Lepton thermal core that operates between -4 and 248°F temperature range, Flir Scout TK is designed to detect the heat signals emitted from an object up to 100 yards away.
It then creates the thermal images and show them on LCD display with high resolution at 640×480 (307,200 pixels) that help you keep an eye on your surroundings in dark and low light situations.
Check out the following comprehensive review that covers all the details and features about FLIR Scout TK, including sample images of this thermal monocular.


You can check out this thermal imager and its latest price >> at Amazon.


Flir Scout TK uses different color palettes to give a define image. In the default cases, yellow is used for extremely hot objects whereas blue is used for extremely cold objects.
The 9 different color palettes offered by the device include Black Hot, White Hot, InstAlert, Rainbow, Iron, Lava, Arctic and Graded Fire. You can choose the one the suits your situation for best results.
The monocular comes with a built in flash memory that allows you record a 4 hour video or capture 1000 images, with just a mere click of the capture button meaning that you don't have to take your eye of the target while capturing images. The saved media can be downloaded to your PC or laptop with the help of the USB cable.
The device comes with rechargeable internal lithium-ion batteries that are charged with the help of the USB cable. The recharging of the battery takes about 4 hours, which allows you use the product for 5 continuous hours of battery life.




Best Thermal Monocular For The Money Above $1000
If you have the budget and don't mind spending money on a more capable thermal monocular, then we recommend you to look at the following 3 top recommendations that are made for outdoor thermal imaging activities, including hunting and law enforcement.


#3: FLIR Scout III-320 Thermal Imaging Monocular
The cost of a thermal imaging monocular is greatly influenced by the two key factors below:
1. Resolution of thermal sensor, or IR detector. Higher resolutions permit smaller objects to be measured from a greater distance, with high resolution display screen can only be as good as the resolution of thermal detector.

2. Frame rate or Refresh rate, refers to the frequency at which frames are displayed, normally measured in Hertz (Hz); Higher or faster frame/refresh rate produce better or more "real time" image quality.
The more costly FLIR Scout III basically has 'the best of both worlds' that combines nearly all the features of Leupold LTO Tracker and FLIR Scout TK, with higher specifications.


With a bright 640 x 480 LED screen, the Scout III 320 is equipped with microbolometer with 320 x 240 resolution as thermal sensor to generate quality electronic image. Its relatively higher thermal detector resolution portrays more accurate and sharper image.
Another feature that makes this thermal monocular stand out from the entry level Flir Scout TK is its detection range, whereby FLIR Scout III-320 is capable to detect the body heat of a human-size target at a distance of up to 600 yards away.
FLIR Scout III has a good video refresh frequency that is designed to give a clearer image than the previous Scout II series which had an industry standard 9 Hz refresh rate.
This improved series of Scout III 320 thermal imager features a higher 60 Hz frame rate, which ensures that you get smoother images of moving targeted animals when you are out there in the field. This 60 Hz thermal monocular allows the images you are seeing to be refreshed at a faster rate, and this ensures that you have a better viewing experience.
The Scout III 320 thermal imaging monocular is easy-to-use, given that it has a button interface that the user can use to access the functions that they desire to use, like changing the color palletes, powering on and off and adjust the brightness of the screen.
You can actually operate the camera by holding it on your one hand, thus, it is easy to hold it up to your eye and start your viewing.
The Scout III 320 also comes with a rechargeable lithium-ion battery with a battery life of 5 hours. When you turn on the camera you can almost immediately start your viewing. This monocular is lightweight which makes it easy to handle. Its interface provides the user with an ability to easily access all the relevant functions of the thermal imager.
Its rugged design shows that the device can withstand all the conditions that are out there in the fields. It is weather tight per IP67 standard, and it can withstand a drop.
Most users have given positive comments on Scout III 320 thermal monocular, in which you can check out the user reviews and ratings >> here to see what they say.
Compared to the Leupold LTO Tracker and FLIR Scout TK thermal imaging monocular that are available at under $1000 –
FLIR Scout III-320, with its more superior performance including the relatively higher thermal-sensor / display resolutions that offer better image quality, comes at a higher cost.
Nonetheless, it is a popular mid-range thermal imaging monocular that is worth the price.


#2: Pulsar Axion XM30S Thermal Monocular
The Pulsar Axion XM30S is a thermal monocular made by the Yukon/Pulsar brands. It has been integrated with an effective reticle based stadiametric rangefinder that can measure the distance of objects with known heights at high accuracy.
Pulsar Axion has various variants, with XM30S is the latest available model that is superior than FLIR Scout III-320 in the following aspects:
Thermal sensor pixel pitch, measured in microns (μm), refers to the spacing between pixel centers. Smaller pixel pitch provides better picture quality with more image detail. Pulsar Axion XM30S is equipped with 12 µm pixel pitch, vs 17 µm of FLIR Scout III.
Display resolution, with the 1024×768 HD AMOLED display of Pulsar Axion XM30S offers higher resolution than the 640 x 480 LED screen of FLIR Scout III. When both have the same thermal sensor resolution (of 320 x 240), higher display resolution offers more pixels and better image quality with more details.
Magnification, refers to the capability of a thermal scope to enlarge a distant object by magnifying it. Axion XM30S offers 4.5 – 18x compared to 2x of FLIR Scout III.
Detection range of Pulsar Axion XM30S is 1300m (1400 yards), vs 600 yards detection capability of FLIR Scout III-320. This refers to the distance where object is visible.
This pocket sized and handheld thermal imaging monocular allows you to see through obstacles that can hinder the detection of various objects. They do not require an external source of light, and they do not get affected by the exposure to bright light.
This thermal monocular provides 8 colour pallets that you can select from for captured by the lens image, monochrome which is usually hot white or hot black and colour highlighting the hottest and coldest areas with different colours.
The Pulsar Axion XM30S thermal imaging monocular is equipped with uncooled microbolometer that function optimally in the night and also during lowlight condition in the daylight. Its resolution of 320 x 240 provides highly detailed images that trace heat signature in the dark during poor visibility conditions.
This thermal monocular has a high frame rate of 50Hz which allows you to comfortably use the thermal monocular dynamically when your target object is on the move, as you can observe moving targets in near real-time.


Pulsar Axion XM30S is the best thermal imaging monocular under $2000, with its key specifications of thermal sensor pixel pitch, display resolution, magnification, and maximum detection range further surpass the capability of FLIR Scout III-320.
This budget premium Pulsar thermal monocular can be utilized for hunting, law enforcement, search and rescue operation, farming, and much more.

The wireless remote control utilized in the Pulsar Axion XM30S thermal imager allows the user to perform basic operations like the digital zoom, calibration and On/Off, without using the standard controls.
The equipment also provides 3 calibration modes: silent manual mode ('M'), automatic ('A') and semiautomatic ('H'):
The A mode enables the equipment to perform various operations, like the automatic actuation of the shutter without the participation of the user.
The M mode involves the pressing of the "CAL" button when the lens closed. This mode is actually the best for hunting since it ensures a silent operation.
The H mode or the semiautomatic mode gives the user the ability to decide whether calibration is required depending on the image quality.
This thermal imaging scope comes with an analogue video output that allows or transmitting image to the display as well as the connection of external recording equipment. You can disable the video output module in order to switch the monocular to power saving mode which helps extend the self-contained operating time on a set of batteries or you can use an external power supply.


The 3 comprehensive video reviews below cover all the details you need to know about the Pulsar Axion XM30S features, including when it was used for hog hunting.
As shown, it also offers advanced functions like picture-in-picture feature that is very useful for hunting, built in Wi-Fi, and streaming.
Pulsar Axion XM30S is the best thermal monocular for the money, it's worth every penny.
Check out the excellent user reviews and ratings >> here to see what they say.

#1: FLIR Breach PTQ136 Mini Thermal Monocular
While the key specifications and price comparison below shows the Pulsar Axion XM30S represents an excellent thermal imaging monocular for the money —
the lightweight FLIR Breach PTQ136 Mini thermal monocular with flexible mounting options does have its own unique proposition value.
FLIR Scout III-320

Thermal Monocular
17 micron pixel pitch
320 x 240 Thermal Sensor
60 Hz Frame Rate
640 x 480 LED Display

-
19 mm Objective Lens
2x Magnification
600 yards Detection Range
Video Recording Function
-
-
Pulsar Axion XM30S

Thermal Monocular
12 micron pixel pitch
320 x 240 Thermal Sensor
50 Hz Frame Rate
1024 x 768 HD AMOLED
Picture in Picture
24 mm Objective Lens
4.5 x 18x Magnification
1400 yards Detection Range
Video Recording Function
Wi-Fi Connectivity
Streaming
FLIR Breach PTQ316

Mini Monocular

12 micron pixel pitch
320 x 256 Thermal Sensor
60 Hz Frame Rate
1280 x 960 FLCOS
-
9.1 mm Objective Lens
1x Magnification
656 yards Detection Range
Video Recording Function
-
-
FLIR Breach PTQ136 features the new FLIR Boson core with
12-micron technology
, and a compact design which offers an incredible tactical awareness.
Equipped with 320 x 356 thermal microbolometer detector, it utilizes top 60Hz refresh rate and high definition display that create excellent image clarity and provide enhanced detection and interpretation, day or night.
This PTQ136 Mini thermal monocular also comes with a digital compass and inclinometer that provides good orientation on the object and awareness. It has detection range of about 600m (656 yards) for human target.
Mainly built for use in law enforcement, FLIR Breach can be concealed in a pocket or mounted to a helmet with its mini rail feature. Weighing only 7.4 ounces (210 grams) it adds very little weight to the officer's heavy gear.
FLIR Breach PTQ136 mini thermal monocular offers 1x optical magnification and a digital zoom of 1x to 4x, thus this allows you to bring the image closer. Combined with its multiple pallets that allow the user to customize the viewing experience, this thermal imager can improve the situational awareness and detect suspects fast during the day or night.
The optics are very compact and offers a selection of 7 image colour pallets: Black hot, White hot, Rainbow HC, Ironbow, Sepia, Arctic and Outdoor Alert.
Operates on CR123A battery, the lightweight FLIR PTQ136 with a compact ergonomic body is equipped with a winged rubber eyecup and a tethered battery cap. This thermal monocular also features onboard recording that can store up to 2.5 hours of recorded videos and more than 1000 pictures.
FLIR Breach PTQ136 Mini is meant for those want a high-end thermal monocular with high resolution, especially in the law enforcement field.


Header image source: Wikimedia