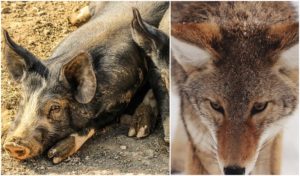 Hunting hog and coyote is very popular.
Despite relentless effort to hunt down hogs that inflict around $1.5 billion total damage in the U.S. annually as estimated by NACAA –
there are still about 9 million wild boars in the U.S. and they are breeding rapidly, says wildlife professor Billy Higginbotham.
While coyote hunting is more controversial as they "pose no unique or overwhelming danger", National Geographic estimated around 500,000 coyotes are killed in the U.S. each year.
If you like hunting, you're probably aware that thermal imaging scope is fast gaining popularity as an effective shooting/scouting gear for hog and coyote hunting, because it can really help hunters who want to shoot to kill.


Best Thermal Imaging Scopes for Hog / Coyote Hunting?
When in the market for the top thermal scope among all different brands and models, deciding on one with good value can be quite a daunting task.
We've narrowed our select thermal imaging scopes down to the 5 top options, and put together a series of videos in this guide showing how hunters used these gadgets for coyote and hog hunting, so you'd know well on what you'll be getting.
Let's jump right in.


Trijicon REAP-IR Mini
Thermal Riflescope

Best High End

Thermal Riflescope
Pulsar Helion XP50
Thermal Monocular

ATN ThOR 4 384
Thermal Riflescope

Best Budget
Thermal Riflescope
#5. ATN ThOR 4 384 4.5-18x Thermal Riflescope
ATN ThOR 4 thermal riflescope is superb in a lot of ways. It is highly celebrated in the market because of its inclusion of GEN-4 thermal sensor alongside Obsidian IV Dual Core, a highly specialized computer in the world of technology that has been designed to run a suite of sensors and crunch huge files in the blink of an eye. This helps to explain why the processor of the product runs almost at a billion cycles per second.
With the Ballistic Calculator designed in it, the ATN ThOR 4 thermal riflescope does the chart and range reading by itself after user enters the wind reading. Immediately there is a change of bearing, it instantaneously adjusts itself for a perfect shot.
ATN ThOR 4 also has an integrated smart rangefinder which helps you to range your target with only a few clicks. Once you have ranged your target in your reticle, the scope, therefore, will adjust its point of impact, and this saves from guessing, memorizing charts or complex calculations.
Some of the new features introduced in ATN ThOR 4 include Smart Mil Dot Reticle, One Shot Zero, and Dual Stream Video that can streams video at HD resolution while simultaneously record to the SD card.
ThOR 4 also comes with a profile manager where all the ballistic and zeroing-in data are saved. This feature has helped to prevent the issues of resetting the whole thing whenever the thermal is to be used, because a new profile is all that is needed.
This thermal imaging scope is available in various magnification options that helps to enhance the view. Its IP (or "Ingress Protection") Rating is also a weather resistance, and this has made it suitable to work in any weather conditions.


The rechargeable battery that comes with ATN ThOR 4 384 model can last for 18+ hours on a maximum mode, giving the hunter and thermal users enough time to hunt their non-games.
Another feature among the other specification yet to be mentioned is its 5 color palette options which allow users to accurately read the heat map of a given image through the use of a multiple color tones.
This product eases the user of stressful recording with its inbuilt Recoil Activated Video (RAV). The Obsidian Core actually does this automatically, thus you don't have to worry about not pressing the button to record a video that you really need.
In order to be able to take a video, you need to set your video recorder to RAV. This will, therefore, trigger your system to record a full video that shows what happened before you took the shot when you took the shot and even more.
All that is needed is to set the video record to RAV and the system automatically buffers everything the scope sees. Those moments before the shot and the one after are well taken care of. The recorded video can also be used on iOS and Android devices.
Check out these 6 hog hunting videos below recorded using ATN ThOR 4 384 4.5-18x thermal riflescope, which features video record resolution of 1280×960 @ 60 fps:

Hog-1
Hog-2
Hog-3
Hog-4
Hog-5
Hog-6
Among the various ATN ThOR 4 models with different configurations –
ATN ThOR 4 384 with 384 × 288 sensor and 4.5-18x magnification is an excellent budget thermal imaging scope that offers superb value.
(As upgrade, you can consider ATN ThOR 4 4-40x model with the highest configurations, including thermal sensor resolution at 640 × 480 pixels.)


While all ATN ThOR 4 thermal scopes feature 60 Hz frame rate and 1280×720 HD Display –
the ATN ThOR 4 384 4.5-18x model offers detection range of 1800 m (~1969 yards), with below are videos of this ATN ThOR 4 thermal imaging scope used for coyote hunting.


Grab ATN ThOR 4 384 Thermal Riflescope >> here to take down hogs and coyotes!

Coyote-1
Coy-2
Coy-3
Coy-4
#4. Pulsar Trail XQ38 Thermal Riflescope
Pulsar has been a manufacturer of thermal imaging product for a long while now, and the company continues to remain popular among hunters and thermal imager users due to their high quality thermal scopes which comes with sophisticated features. Their nice extensive products come in varieties for users, and that is what makes them interesting.
The Pulsar Trail XQ38 Thermal Riflescope is one to reckon with. It is a device which has been exclusively conceived for hunting and sporting purposes. One thing that makes the Pulsar Trail XQ Thermal Riflescope outstanding is its ability to cage a lot of features, functionalities and qualities together, and still perfectly balancing it inside itself.
This Pulsar XQ version offers a magnification range of 2.1x – 8.4x that is designed to be adjusted in fixed steps or in smooth, continuous mode. The variable magnification of the XQ improves the accuracy by giving a magnified image of the reticle area which can be viewed at the top of the display.
The device has a built-in accelerometer/gyroscope that improves the accuracy by helping you identify the cant and angles that are greater than 5°, in which an arrow indicates the direction and degree of lateral tilting.
The XQ38 is also integrated with Stadiametric rangefinder that helps user to determine the precise distances in a faster, easier, reliable and repeatable manner.
It is supported by a detection range of 1476 yds, 50 Hz refresh rate, an integrated video recording, and Wi-Fi sharing to a mobile device – a realization that came about as a result of its inclusion of the latest 384×288 17um thermal core.
How about the battery pack? Oh! It is the exact specification of what you really want. Power is supplied by a progressive autonomous B-Pack rechargeable IPS5, 5.2A-h battery that is already standard across many optronic devices built by Pulsar.
Offering over 8 hours of operation on maximum mode, the battery is also easy to recharge without removing it from the Trail Riflescope. This was made possible by the wall adapter and Mini-USB connector built on the housing of the scope.
As a way of supporting good old memories, the Pulsar Trail XQ Thermal Riflescope has been designed to include the free mobile application Stream Vision for receiving real time footage when connected with Androids and iOS based mobile unit.
This will enable users capture amazing moments that can be streamed. This feature also helps users update the device firmware with newest functions when they are available.
Watch the thermal hog hunting videos below… Want the same results?
Get your Pulsar Trail XQ38 Thermal Riflescope >> here and take some shots!

Below are more videos on how Pulsar Trail XQ38 thermal scope is used for coyote hunting.
Coyote-1
Coy-2
Coy-3
Coy-4
Coyote-5
#3. Armasight by FLIR Zeus 336 Thermal Imaging Rifle Scope
Armasight is a highly respected and well recognized brand for thermal imaging. Products of the company are popular among hunters, law enforcement agencies and other thermal users for its quality and versatility.
The Armasight by Zeus 336 3-12x50mm Thermal Imaging Rifle Scope, equipped with FLIR Tau 2 VOx microbolometer core, is a specially designed magnified weapon scope which delivers top performance during the day and night. This "all day long" feature is one of the strength of the Zeus among others.
Its detection capacity is awesome as it helps to enhance target under different weather conditions by cutting through dark, dust, fog, smoke and any other atmospheric obscurants that could blur the eyes.
This detective feature is supported by its high quality electronic zoom (E-Zoom) function.
The mounting mechanism used in this product is so intuitive that it allows users mount and dismount the scope from various weapons. It allows first-time users achieve a wonderful experience through the laid out direct button adjustment and combination installed on it.
Even with it being the lightest and most compact scope in its class, the Armasight by FLIR Zeus 336 has a series of selectable color mode based on an upgradeable software package, allowing a user to choose from White Hot, Black Hot as well as other multiple colors for clearer contrast. It also gives a perfect image as the display of the scope is AMOLED SVGA with a resolution of 800×600.
The scope features a video-out capability that allows users record easily one-time moments both in NTSC and PAL formats. The product also comes with some special user-adjustable imaging tools like the Contrast Enhancement, Digital Sharpness, Smart Scene, Automatic Gain Control and Silent Shutterless.
Watch the hog hunting videos below recorded using Armasight by FLIR Zeus 336.
With its inexhaustible features, this Armasight riflescope is indeed another good budget thermal imaging scope for hog hunting.
Grab your Armasight by FLIR Zeus 336 Thermal Riflescope >> here and shoot to kill!

Hog-1
Hog-2
Hog-3
Hog-4
Hog-5
Hog-6
Hog-7
If you have the budget, you can consider
Armasight Zeus 640
or Armasight Zeus PRO (with even better target orientation and range estimation with its ballistic drop reticules alongside electronic compass and inclinometer).
Below are more videos on how hunters used Armasight Zeus 640 and PRO thermal scopes to hunt coyote.

Coyote-1
Coy-2
Coy-3
Coy-4
Coyote-5
#2. Pulsar Helion XP50 Thermal Monocular
If you want to go hog hunting with a thermal scope that helps to scan the area for targets and movement, then this monocular is the top choice you should be looking at.
Helion XP50 is Pulsar's highest configured thermal monocular that utilizes IR sensor and the uncooled microbolometer technology. Designed for use both at night and in the daylight, it offers a very impressive detection distance range with superb ability to detect heat signals up to 1969 yards (1800 meters) away.
This Pulsar's top-of-the-line monocular is built with several innovative design upgrades and changes that are more superior than their popular Quantum thermal monocular. Some of the upgrades featured in this Helion XP50 monocular include:
A stadiametric rangefinder, a heat sink that ensures better image quality, picture-in-picture, quick-disconnect germanium lenses, hot-swappable batteries, Wi-Fi capabilities, wireless remote, onboard recording and smartphone apps.
A quick glance through of its key features and how they can help your hunting experience:
Top image definition: The Helion XP features a heat sink that is incorporated on the device's body. The main purpose of this feature is to prevent the buildup of heat from the sensor as well as other components while reducing the levels of temperature and noise sensitivity.
Stadiametric Rangefinder: With the stadiametric rangefinder featured in this thermal scope, it can determine precise distances faster with reliable and repeatable measurements.
High resolution: The Helion XP50 is based on the uncooled microbolometer of matrix 640×480px which offers a highly detailed and crisp image.
Variable magnification: Comes with a 12 degree/2.5X field of view and picture-in-picture feature, Helion XP50 allows you to magnify images up to 8× with a two-step-up and smoothly graduated magnification that gives you the ability to customize your view.
High image frequency: The high refresh rate of 50Hz that this monocular utilizes allows you to use it even when you are on the move or the target is moving.
Built-in Video Recording: The Helion XP50 video recorder can capture still images and video smoothly. The captured images and videos are stored internally and can be stored to PC via the Wi-Fi or cable connection.
IPX7 rated: Helion XP50 is waterproof, thus you can use it in the rain, in wet weather and also it can be submerged in water. It could get dropped or even submerged in a stream or river and still function optimally.
A wide range of operating temperatures: This feature allows you the ability to use the thermal imager in very low temperatures, like lows of -25◦. The Helion XP50 utilizes the frost-resistant OLED display that ensures the captured image remains the same even when it is viewed in higher temperatures.
Mobile friendly: The Helion XP50 can be connected to a mobile device both Android and the iOS-based devices through the wifi. It features a stream vision software that allows you to receive a footage in real time when connected to a mobile device. With the app, you can control the thermal imaging scope with your smartphone as well as live stream the captured images to YouTube
User-friendly interface: The Helion XP50 offers ease of operation. It displays the internal menu items and options on a contrasting gradient substrate such that you can easily identify the setting without losing your target. It also has an easy to read status bar at the bottom of the display.
The following video gives further overview of this Helion XP50 thermal monocular.
This Pulsar Helion scope allows easy usage since it is designed to fit into your grip. You only need to place your hand through the strap which allows you to easily grip the monocular with its non-slip design, giving you access to all the menu buttons with only one hand.
You do not need an external source of light when you use this at night as its functionality is not affected by bright light exposure. Besides hunting, you can also use this thermal imaging monocular in a wide range of applications including search and rescue operation, observation and terrain orientation among other applications.
Additionally, the Helion XP50 thermal monocular can be used in the inclement weather conditions, like the fog, smog or rain. The imaging monocular gives you the ability to see through obstacles that can hinder detection of targets.


Indeed, when Keith Warren shared his gear tips on how to be successful when hunting at night, Pulsar Helion is the thermal monocular of his choice. Watch this:



This comes at no surprise, because the quality of thermal image generated by this Pulsar's top-of-the-line thermal monocular is really superb.
As you can see from the videos below, including the first 2 videos with hogs were running —
The image quality produced by Pulsar Helion XP50 Thermal Monocular at 640 x 480 (i.e. 307,200 pixels) is clearly very sharp and superior to the usual thermal imaging scopes.
Check out what users say in these actual reviews on Pulsar Helion XP50.

Video-1
Video-2
Video-3
Video-4
#1. Trijicon REAP-IR Mini Thermal Riflescope
This is a premium high-end thermal rifle scope for serious hunter who wants the very best.
This mini thermal riflescope from Trijicon Electro-Optics utilizes the features and performance of the Trijicon IR Hunter MK III, as well as the size and weight aspects of the IR Patrol in order to make a very mobile and versatile thermal weapon scope.
It has a 35 mm 12° field of view lens that allows the user a 2.5x magnification at a high resolution of 640×480 pixels per inch and top notch 12 micron pixel pitch.
The Reap-IR mini riflescope features a very high 60 Hz frame rate that allows you to easily aim at moving targets while giving you high precision and clarity. Additionally, you can adjust frame rate down to 30Hz to save on battery power.
The Reap-IR mini riflescope utilizes a digital electronic 8× E-Zooming system that allows the user to obtain different magnifications easily and quickly. This advanced built-in sighting system ensures the reticle maintains boresight.
The Trijicon Reap-IR mini riflescope has a small and light body, but it is a powerful riflescope which allows the user to capture targets in any kind of light. It offers high levels of speed and accuracy especially when it is used at night.
It can be used as a standalone thermal scope, mounted on a helmet, held in the hand, or even used on clip-on capacity.
A quick glance through of its key features that make it stand out from the rest:
Trijicon REAP-IR has an edge detect mode that allows the user to target in a smooth manner without having to struggle their eyes, you can thus focus on the target for a long period of time. This feature also ensures the safety of the user since it emits less preview light such that the enemy or the target cannot identify you in the dark easily. The ability to emit low less light prevents you from getting night blindness, which can happen as a result of being exposed to a lot of light in the dark.
This thermal scope features multiple reticles save locations that allow the user to zero in on four different weapons. With the feature, you can actually recall the save zero as you shift the scope from one position to another. The multiple reticles save locations ensures compatibility with four different weapons.
The Reap-IR 35 mini riflescope features multiple reticle patterns for easier spotting, with five types of reticles for you to choose any. The reticles are a combination of both simple and complex reticles, and they improve precision giving you the ability to spot moving targets.
This mini thermal riflescope also utilizes enhanced target recognition feature that provides high-quality images. It does so by automatically picking the target area as well as adjusting for brightness and contrast, a feature that is more superior than the other riflescopes that alter the entire display.
Check out the image quality of Trijicon REAP-IR Mini Thermal Riflescope in video below.
Simply magnificent for hunting, isn't it?
The Reap-IR mini riflescope functions at optimal in temperatures ranging between -40◦F and +131◦F, thus the unit can be used in almost all kinds of temperatures. Therefore, the user will experience a lot of flexibility in different locations and even its usage.
The Reap-IR mini riflescope also features a polarity mode that can easily be controlled such that it allows you to switch between three levels of white-hot and three levels of black hot. This is excellent when compared with other thermal riflescopes that only offer one level. You can choose your preferred mode between the low, medium and high levels.
This mini thermal scope has a rugged, multidirectional and weatherproof thumbstick control which is large and you can easily find it in total darkness.
Watch the video below with in depth overview of this versatile Trijicon Reap-IR scope.
The stadiametric rangefinder of Trijicon Reap-IR can quickly determine the distance to your target. With the rangefinder, you can easily set your range unit, target size and adjust the range marks to your target. The range readout display will then display the distance.
This mini riflescope is portable due to its small size and it is also durable. It comes with a mini D-LOCK Picatinny rail mount and its high frame rate increases your chances of hitting targets that are on the move.
Below are more hog / coyote hunting videos with Trijicon Reap-IR, while you can check out more user reviews >> here on what they say about this high-end thermal imaging scope.
Hog-1
Hog-2
Hog-3
Hog-4
Hog-5
Hog-6
Coyote / Hog Hunting With Thermal Scope: Key Selection Criteria You Should Consider
Technology has changed almost every facet of our daily lives. It has also changed the way hunters approach their activities in the field. The technology has provided hunters with a lot of tools that are meant to improve the way they act when they are in the field.
Thermal imaging technology has really impacted the hunting market and has actually put to an end the use of some tools like the flashlights.


Detailed thermal images with good quality is crucial to help your decision making in the field, especially because most of the hunting activities take place at night.
Thermal sensor is capable of detecting objects in environments without any light, and generates clear electronic image from heat. By the help of a thermal imaging camera, hunters can explore or scan their surroundings and see every animal that is around his radius.
The video below shows the difference of thermal imaging vs night vision scopes at night.
In order to utilize the thermal imaging technology better, one needs to make sure that they have acquired the correct thermal imaging camera for hunting.
Here are several key factors that you may want to consider:
1. Thermal Sensor Resolution
Thermal sensor resolution is responsible for image quality, with higher resolution will often provide more detailed and sharper image quality.
The video below compares the image resolution of various Armasight scopes, including:
Armasight by FLIR Zeus 336 (336×256 sensor pixel array format), vs
Armasight by FLIR Zeus 640 (with higher 640×512 pixel array format resolution).
However, the price of thermal scope will be influenced by the thermal sensor resolution. In general, higher thermal sensor resolution will result in higher cost.
For example, FLIR Zeus 640 with higher sensor resolution is more expensive than the budget option of FLIR Zeus 336.
While a more powerful thermal imaging camera with higher thermal sensor resolution would be worth it to help your hunting experience, it's up to you to choose one that meets your budget and expectation.
2. Magnification Factor
This refers to the thermal scope ability to enlarge a distant object by zooming and magnifying it. Note that when a thermal scope user zooms in, a higher magnification may reduce the image resolution.
3. Detection Range
The detection range simply means the distance within which the thermal scope is able to capture clear thermal images. There are certain animals, like deer, that can easily discover human when you get close to it, if this happens you will scare away the animal.
Today, there are various thermal imaging scopes that have been improved in terms of their detection range. Some are able to detect human-sized objects at over 1200 yards while still providing high image quality.
Taking the Pulsar Helion XP thermal monocular for example, the 3 available variants are differentiated by the zoom magnification factor and detection distance range, with XP50 is the model that is equipped with the highest specification:
XP50: 2.5 – 20x variable magnification, 1969 yards observation range. (Recommended)
XP38: 1.9 – 15.2x variable magnification, 1476 yards observation range.
XP28: 1.4 – 11.2x variable magnification, 1094 yards observation range.
4. Size and Weight
You do not want a device that will make your rifle very heavy, so a lightweight thermal imaging rifle scope is ideal for hunting.
5. Sensor Pixel Pitch
Pixel pitch refers to spacing between pixel centers, and this is important in controlling the image quality. Normally measured in "microns" or micrometers (μm), lower pixel pitch numbers are better. The smaller the sensor pixel pitch, the more image detail you will get in a smaller package.
Trijicon Reap-IR Mini thermal cam is the standout performer in this aspect with its 12 micron sensor pitch, while the rest in this list are with 17 micron pixel pitch.
6. Frame Rate / Refresh Rate
The frame rate is also known as frames per second (FPS) or frame frequency. Basically, it determines the rate at which the thermal imager provides the consecutive images. This, therefore, affects the refresh rate and smoothness of the moving image you can see.
The video below compares the image of thermal imaging camera at 30Hz vs 9Hz FPS.
This is a factor that hunters should consider when they are choosing a thermal imaging camera, because the animals they are targeting may not always be standing at the same place, they could be moving, which happens a lot.
When you acquire a thermal imaging scope with a higher frame rate, you will benefit from a smoother image when you're tracking a moving animal. Most of the times you will find models that are equipped with frame rate in Hz ranging from 9 to 50.
Alongside the high-end 12 micron sensor pixel pitch, frame rate this is another key factor that makes the high-end Trijicon Reap-IR Mini thermal riflescope stands out because it has 60 Hz frame rate, the highest among all the thermal scopes above — but these advanced features come with a premium price as shown below.



7. Ease of Use
A thermal imaging camera for hunting purposes should be simple to handle and operate. It should have an interactive interface that allows you to perform the functions that you want easily. Some manufacturers often indicate that their cameras come with additional functions and adjustment possibilities. However, it should be easier to perform the core functions that a thermal imaging camera is meant for.
For ease of use, a thermal imaging camera should have at least three buttons that allow you to access the function without getting stuck or having to go through a process in order to access the function that you want to perform.
Additionally, you don't need a thermal imaging camera that is overloaded with too many buttons because this can lead to frustrating confusion as you go about your activities. An easier to use thermal imaging camera makes targeting easier and will considerably speed up your activity. So be sure to check out for the buttons or the overall interface.
8. Price
Most of us wish to have a Ferrari car but can't afford one.
Different thermal scope models have different prices, but the good thing is that thermal imagers have become more affordable than before. You can get a good thermal imaging scope that meet your requirements within your budget.
Trijicon
REAP-IR Mini
Thermal Riflescope

Best High End

60 Hz Frame Rate
640x480 Thermal Sensor
12 micron Sensor Pitch
2.5x-20x Mag
Pulsar
Helion XP50
Thermal Monocular

Best Mid-Range

50 Hz Frame Rate
640x480 Thermal Sensor
17 micron Sensor Pitch
2.5x-20x Mag
ATN
ThOR 4 384 4.5-18x

Thermal Riflescope

Best Budget

60 Hz Frame Rate
384x288 Thermal Sensor
17 micron Sensor Pitch
4.5x-18x Mag
9. Battery life
Thermal imaging scopes operate on battery power. As you will be out in the field without any source of power to recharge your device when the battery runs low, you need a thermal scope with longer battery life; some have a battery life of nearly 8 hours after a single charge.
There are models that come along with spare batteries that you can use at times when your device's battery is down, thus allowing you to go on with your activities.
10. Durability
When hunters are in the field, they are faced with various situations or are usually in an environment that could be harsh. You would need a thermal scope that is durable such that it is able to withstand the harsh conditions such as a drop. The rugged and compact cameras offer a higher degree of durability and can withstand a drop.
Moreover, most gadgets tend to get damaged by moisture if they are not water resistant, and for activities like hunting, moisture can be something that is often encountered by hunters.
Our recommended Pulsar Helion XP50 thermal monocular as the best mid-range thermal scope for hog and coyote hunting is compliant with IPX7 standard, i.e. it is waterproof, dustproof, and fogproof to withstand the harsh hunting environment that is out there in the field. These can ensure that the thermal scope you buy will last for a long time.
11. Image Storage Format
Some hunters would want a thermal camera that can store images and record video. The thermal imaging camera for hunters should be able to support the standard storage format, which is commonly the JPEG format. This allows the user to transfer the documents to a computer or a mobile device and even share with others.
The stored thermal images can be viewed later which will help provide useful information about the movement of certain animals that are targeted by the hunter.
There are those cameras that are compatible with an SD card which allows for storage of the captured thermal images. One can swap the SD cards easily when they are full to capacity so that the can be able to store images.
11. Additional Features
Additional features like built-in Wifi and streaming can be good for a thermal imaging scope, depending on your needs and preference.


Have you found what you are looking for to shoot some hogs and coyotes?
Leave a message below and share your thoughts!