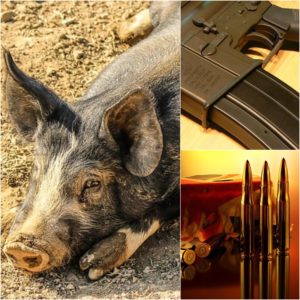 It's OK to admit it:
While thermal imaging technology has matured and become much more affordable over the years, most thermal riflescopes still do not fit well into your budget.
You'd love to add a thermal imaging rifle scope into your hunting arsenal, to provide night vision capabilities for hitting targets in the dark — but you want to do it without burning a hole in your pocket.
We understand, and you are certainly not alone in having this thought.
In this guide, we'll reveal the 3 best 'cheap' thermal rifle scopes that are available on the market today, including comprehensive video reviews and side-by-side comparison, to help make your decision easier.
These least expensive (yet powerful) weapon-mountable thermal imaging scopes represent excellent choice for hunters who are looking for first entry-level thermal riflescope but do not want to spend over $2000 for it.
Let's jump right in, and we are confident that you'll get what you've been looking for.
Pulsar Core
RXQ30V
Thermal Riflescope
Armasight by FLIR
Predator 336

Thermal Riflescope
ATN ThOR 4 384
1.25-5x
Thermal Riflescope
#1: Pulsar Core RXQ30V [ Experts Recommendation ]
Pulsar Core RXQ30V has the capacity to detect its target over 900m (985 yards) with its ULIS 384×288 thermal Microbolometer sensor.
The RXQ30V Core with high 50 Hz refresh rate and variable magnification up to 6.4x (a base 1.6x magnification alongside 2x/3x/4x digital zoom) enables it to focus and show the image clearly on its high resolution 640×480 AMOLED near-eye display.
Pulsar RXQ30V thermal riflescope is equipped with a built-in "Picture in Picture" function, that allows the shooter to display an additional image on the screen which is 2x magnified and thus allows to focus the target.
You can easily aim the target with this superb thermal imaging weapon sight.
Watch the video below and hear out what the expert says:


As indicated, Pulsar Core RXQ30V is a base model without the bells and whistles, as it does NOT have built-in video recording function, GPS, and Wi-fi.
If you need any of the features above, then this economic thermal riflescope is not for you.
Check out Pulsar RXQ30V's >> user reviews and latest price here.


Pulsar Core RXQ30V is based on a fixed focus system which enables it to focus its target to infinity so you need not focus it by yourself just like other riflescopes.
You are free to choose from this array of reticles and wide applications that are stored in its internal memory. It can be used for a short-range hunting or shots with a maximum of output.
It has got an even convenient option of "one-shot zeroing" in its Core models which is further assisted by an advanced "Freeze" option. It works in a way that after making a zeroing shot it saves the frame of the target in the memory of the riflescope and align the reticle at the point of the target without even keeping it immobile to its fullest.
It operates on two CR123A batteries and has only one color pallet (green), but still got the features of 10 reticles. You can simply apply its "Display Off" function when you do not want to visualize through it.
Hans of HansETX shared his experience about this thermal hunting scope in the video below.



Another feature that makes it more advanced than the other riflescopes is its 'camouflage effect' which means no light from the eyepiece of the device. It helps in between the observations and enables a quick restart without even taking a second because the system is already working. All you need to do is to switch on the display again.
Its Core features are categorized into three modes: City (enhanced contrast), Forest (low contrast), and Identification (heat signature).



Each mode is specified according to the viewing conditions and optimizes the image likewise.
It has got a wireless remote control which allows the viewer to optimize it according to the requirements without even resorting to standard controls.
The demo video below shows more examples on the detection of the Pulsar Core RXQ30V' targets at various distance range using different modes like white/black hot, and much more.
Again, note that as this thermal riflescope does not have built-in recording function, so the following video footage was captured using separate offline recording tool/camera. The actual image that users see on the Pulsar RXQ30V scope itself is certainly much better than below.
With all its specifications, still, it is small in size and got a weight of fewer than 2 pounds.
There are mounting holes at its base which allows it to get fixed on a rifle, or gun in multiple positions. So one can choose it according to his angle, type of rifle, anthropometric data of a shooter etc.
This video shows overview of how to mount Pulsar Core RXQ30V thermal weapon sight.
The whole case of Pulsar Core RXQ30V also includes a carrying case, weaver-style mount, torque screwdriver, hand strap, wireless remote control, etc.
Pulsar RXQ30V is the best least expensive thermal riflescope for beginners who want to start thermal imaging in their hunting adventures. It is also good for seasoned hunters who is looking for a backup thermal imaging unit.


If you like this but prefer a thermal vision rifle scope with built-in recording function —
then you can check out Pulsar Apex XQ38 (above $2000) as the next Pulsar riflescope model with the closest specification as the Pulsar Core RXQ30V reviewed above, or consider the other 2 brands/options in this list.


#2: Armasight by FLIR Predator 336 Thermal Rifle Scope
Armasight by FLIR Predator 336 2-8x25mm is the base model of this technologically advanced thermal imaging weapon sights family that are used in hunting, sporting, law enforcement and military markets.
This inexpensive clip on thermal riflescope is based on the FLIR Tau VOx microbolometer core with 30Hz refresh rate and 336×256 pixel array format. It has solid state design and utilizes uncooled longwave infrared for use during the day and night operations without having to remove sight from the rifle.
Its uncooled FLIR Tau 2VOx microbolometer, combined with the high resolution 640×480 LED VGA display, provide high image quality even in the presence of fog, haze, smoke, snow, light rain, and other atmospheric conditions that can hinder your observation with other rifles.
Watch the following video for a clear overview of Armasight by FLIR Predator scope – including its hardware design, key features, and user interface.
Armasight Predator is equipped with state of the art technology and software algorithms that ensure high precision. This is possible due to the digital reticle platform along with high contrast performance.
This thermal night vision rifle scope utilizes two digital features, Active Contrast Enhancement (ACE) and Second Generation Digital Detail Enhancement (DDE) which automatically get activated in order to optimize image contrast and edge sharpness, which thus results in clearer images.
Additionally, it also utilizes Smart Scene Optimization (SSO) and Information-Based Histogram Equalization (IBHEQ) to ensure high-level target precision. These features offer continuous computational corrections to enhance the contrast of your target against very challenging backgrounds like large areas of visible sky or water.


Armasight by FLIR Predator 336 Thermal Rifle Scope has built-in recording function. It comes with a video output that can be connected to an external video display. The device also has a wireless remote control which allows you to operate the scope remotely.
Below shows a real example of hog hunt using this Armasight Predator 336×256 riflescope.



The Predator 336 thermal imaging weapon is the smallest and lightest in its class, with intuitive controls, functions and features. All these are arranged among direct button adjustments, direct combination buttons and electronic menu selections.
With these easy to use controls, the user is able to customize them into his preferences. There are a lot of customization options that can be exploited by the user on the Predator thermal imaging weapon.
The thermal imaging weapon has a rail that can be easily mounted on a wide variety of hunting equipment. Its thermal core can allow you to take a shot of target up to 950 yards.
Armasight by FLIR Predator 336 Thermal Rifle Scope operates on two CR123 batteries which can last for 4 hours. You also have an option to plug in the extended battery pack.
The price of this thermal scope was around $2000 with minor fluctuation.
You can check out its user reviews and latest price >> here



#3: ATN ThOR 4 384 1.25-5x Thermal Riflescope
ATN ThOR 4 384 smart thermal riflescope with the base 1.25-5x option is a popular choice for obvious reasons: It is one of the cheapest thermal imaging riflescope available on the market, and it offers great value.
Equipped with Obsidian Core designed to run a suite of sensors and process huge files at high speed, ATN ThOR 4 is developed to offer power at smaller package and lower cost.
With the built-in Ballistic calculators and Smart Range Finder, the ATN Obsidian Shooting Solution will automatically adjust the reticle and your point of impact, so that you can shoot the target easily.
Watch this brief video for overview of ATN ThOR 4's hardware design and key features:



The ATN ThOR 4 thermal scopes have an easy to use user-interface, as ATN makes these devices with the customer experience at hand. It is developed taking into account the interaction between the device and those that use it.
The comprehensive video below goes through all the key features and user menus that you need to know about this ATN ThOR 4 thermal riflescope.
Some of the other key features of ATN ThOR 4 thermal riflescope include:
– Video recording feature makes capturing footages an exciting part of your adventure by recording your photos and videos in an internal and an external MicroSD. Its Recoil Activated Video (RAV) function ensure you don't miss the chance to record your hunting experience.
– E-Barometer that gives precise and accurate data, and E-Compass that lets you know which direction you are supposed to head after focusing on your prey.
– Wi-Fi function that allows you to share the footages and photos on your mobile device, and take that hunting experience to your friends and family back in the town.


The following white hot vs black hot video footage was captured by a low-cost ATN ThOR 4 384 1.25-5x thermal riflescope, with the hog was at about 100 yards away.
Note that the actual image looks better through the eyepiece than what is shown in the recorded video due to video quality loss, and this applies across all thermal imaging riflescopes with built-in recording function.


With a Gen 4 thermal sensor at 384×288 resolution, this 60 Hz riflescope with gyroscope and 1.25 – 5x magnification provides a silky smooth zoom that helps you to get close to your prey and also get up-close with everything you do when out there.
It runs on 4AA replaceable batteries that offers a long battery life of 18 hours. You can as well carry external batteries to replace when the other ones are used up.


With its inexhaustible features, ATN ThOR 4 384 1.25-5x is an excellent budget thermal imaging scope that offers superb value.
One drawback about ATN is about the reputation of its customer service, as there have been feedback that buyers were often not satisfied with the ATN customer service and support when there was issue.
Check out over 250 user reviews and latest price of this thermal riflescope >> here



Choosing Your Cheap Thermal Rifle Scope Under $2000: The Verdict and Key Consideration Factors
When come to choosing a thermal scope, some key factors of consideration include:
Frame Rate: Also known as refresh rate, normally measured in Hertz (Hz), refers to the frequency/rate of image creation by infrared detector. For example, a 30 Hz thermal imager does so 30 times per second. Higher frame rate gives smoother motion transition and better visual experience.
Thermal Sensor Size and Display Resolution: Refers to the number of pixels delivered by thermal sensor and displayed on screen. More pixels mean greater details and better image quality.
Lens Focal Length: Refers to the distance between the lens and the image sensor when the subject is in focus. In general, the longer the focal length, the higher the magnification, and the larger the subject appears to be.
Pixel Pitch Size: The spacing between pixel centers, normally measured in microns (μm) or micrometers. Smaller pixel pitch gives more image detail in a smaller package.

The side-by-side comparison table below shows the differences of key specifications and features of Pulsar Core RXQ30V vs Armasight by FLIR Predator 336 and ATN ThOR 4 384.
All these 3 are cheap thermal rifle scope under $2000 with great value, and Pulsar Core RXQ30V is particularly the standout option that we like.
50 Hz Frame Rate
384x288 Thermal Sensor
640x480 AMOLDED Display

985 yards Detection Range

30mm Lens Focus

17um Pixel Pitch Size
No Video Recording function
No GPS / WiFi

2xCR123A, 4 hrs Battery Life
Armasight by FLIR
Predator 336
30 Hz Frame Rate
336x256 Pixel Array Format

640x480 LED Display

950 yards Detection Range

25mm Lens Focus

17um Pixel Pitch Size

Video Recording Function
No GPS / WiFi

2xCR123A, 4 hrs Battery Life
60 Hz Frame Rate
384x288 Thermal Sensor
1280x720 HD Display

820 yards (750m) Detection

19mm Lens Focus

17um Pixel Pitch Size

Video Recording Function

GPS / Wi-Fi Features
4xAA, 18 hrs Battery Life

If video recording function is a deal-breaker for you, or you simply want to get the absolute cheapest thermal rifle scope available on the market that offers video recording function — then ATN ThOR 4 384 1.25-5x base model is the one that you should be looking at.
While ATN ThOR has several attractive add-on features like GPS and Wi-Fi, these bells and whistles may not be required by all people, so it is down to your own preference.
And please bear in mind the aforementioned concern about ATN customer service and support when issue arise, with a forum feedback even indicated the following – though there are also feedback that mention ATN customer service has improved over the years.
"ATN and Pulsar are a night and day difference service wise if you have an issue… Pulsar probably is the best company to deal with on service of any of the thermal makers. ATN is probably the worst."

Otherwise, if your budget is around $2000 or less, suggest to grab the bargain Pulsar Core RXQ30V as recommended by the experts —
You won't be disappointed by this superb thermal riflescope that can get the job done.