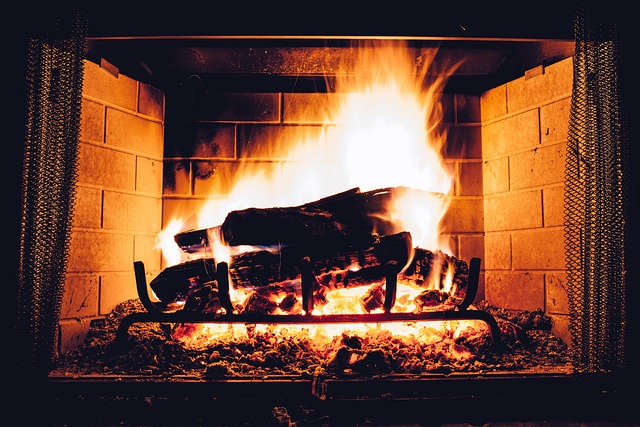 Fireplace is very important in our houses as they tend to add warmth and a charming atmosphere within our rooms.
However, fireplace can be places where no one may have a keen interest on. In that case, it may take years before someone can consider checking whether there are defects within it.

Such defects can range from cracks, holes at the corner joints, gas fireplace that does not work, and other issues.
That calls for the need for you to be aware of tips and ideas of repairing your fireplace, and here are 15 excellent examples and cases studies on how to repair fireplace:


#1: Fireplace Maintenance and Safety – Expert Tips
A lot of people think that a fireplace is all about throwing a piece of wood in it and removing excess ashes afterwards. There is more than just that.
Recommended read: 19 Electric Fireplace Videos with Superb Product / DIY Tips
As mentioned by Al Carrell in the video below, it is important for you to regularly inspect the inner section of your chimney.
To do this, you need to take a flash light and check if there are cracks and holes. Also, consider checking whether the smoke shelf has accumulated debris that might catch fire.
#2: How to Fix a Cracked Fireplace
To fix a cracked fireplace, all you need is a pre-mixed refractory mortar.
There are a variety of these products but you can consider using the Heat Stop products.
With this mortar, you can seal the cracks at your fireplace in three simple steps that are something you can do it by yourself – as demonstrated in the video below:
Firstly, mix the mortar.
Then use a wide blade knife to apply the mortar over the cracks.
Finally, use that same blade to press the mortar into the cracks.
#3: Mortar Repair of Brick
The exterior of your chimney wall may encounter some cracks and even old mortar falling out. In that case, you can repair mortar by using product which contains sand and adhesive.
To do that, simply identify holes in your walls, clean those sections with loose old mortar, and finally squeeze the pre-prepared mortar into your brick joints.
#4: Dealing with Cracks in Fireplace Walls
Cracks in your fireplace could be hazardous because they could send flames through these cracks, and make some flammable things on the other side to catch fire.
Cracks needs to be fixed by using a fireplace seal mortar. However, if the cracks are too small to be sealed then it should not be anything to worry about.
A modern alternative that you can consider is the energy efficient electric fireplace with low maintenance, that can also lower your energy bill without fumes.


#5: Repair of Gas Fireplace that Does Not Work
If you are using a gas fireplace, then there are problems that normally arise impromptu, such as failure to ignite or spark.
To fix this, open your gas fireplace, and you will see the igniter right beside where the gas is coming out from. Clean this piece of metal by scrubbing with a dry piece of steel wool.
You also need to check the wire connecting to the igniter; if it is broken, then screw it back and try to ignite again.
You may need replacement piezo sparker and replacement thermopile.
#6: Fixing A Gas Fireplace That Won't Light
The first thing that you need to do is check if the spark is coming out of the igniter.
If it is, then you know that it is the thermocouple that does not sense the heat.
Use a small wire brush to cleat this part. Also, clean the igniter and the gas jet nozzle.
That solution should be able to make your gas fireplace work again.
#7: Gas Fireplace Pilot Light That Does Not Stay Lit
Sometimes your gas fireplace will light but does not hold longer than expected.
Normally, it is dust or spider web that cause the pilot light to die out.
To repair such a faulty fireplace, you need to clean the coupler, as shown in video below.
Recommended read: 9 DIY Home Energy Audits that Save BIG Money
#8: How To Repair Fireplace with Damaged Brick
To repair your damaged fireplace brick due either old age or too much heat that result to expansion and contraction, you need replace a chipped brick with a new one.
Removing one brick needs you to use a grinder to cut along the mortar section. After cutting you need to remove small pieces of the brick using a hand chisel. Then, prepare mortar.
Lastly, apply your mortar on the head joint, back part and the bottom. You will be good to insert a new brick.
#9: Brick Fire Box Repair
In the event that you feel that your fireplace has too many cracks that are beyond repair, then you may consider removing old bricks and putting new ones.
To do that, you need to make mortar and get the bricks. Remove all those bricks that you think are too old. Install the bricks using your mortar and ensure that the mortar between brick is about one inch.
#10: Plaster Repairs on an Interior Fireplace
As for those fireplaces that have been converted into limestone fireplaces from bricks, there are those areas around the chimney that need to be filled up.
Before plastering, you need a small holed sized mesh wire.
Mount the mesh wire over space and the prepare limestone mortar.
Finally smear the mortar over the mesh wire until it is filled up as show in this video:
Recommended read: 15 House Insulation Videos Packed with Awesome Tips


#11: Fireplace Reconstruction
You could choose to construct a new fireplace if you feel like the old one is not good enough.
To do this, dismantle the old fire place. Start with one brick then the rest will be easy.
Next, mount the long piece of brick at the top section. That will be followed removing all the old bricks to make the fireplace opening.
Check out the following video to learn more:
#12: How To Troubleshoot Fireplace That Is Not Lighting
When you encounter fireplaces that is not lighting, you need to turn off your gas supply before anything else.
Secondly, turn the valve to pilot knob and check if there is gas coming out. Press the igniter while holding the pilot in position.
Sometimes, if your lighter won't light, then consider using a manual lighter. As soon as the gas is turned on, then the whole length will light up.
#13: Fixing Fireplace Firebrick Panel with Hairline Crack
Sometimes your fireplace might encounter hairline cracks and that prompts you to fix it.
It is important to consider fire block pre-prepared mortar. Squeezing the mortar might be a problem especially is the cracks are not linear.
Instead you could even squeeze some on a small card board and then smear it over the cracks as your squeeze to ensure they get in the crack.
#14: Refacing a Fireplace with Granite
To reface a fireplace with granite, the first step is basically removing the old broken granite that had been installed over the bricks.
Next, apply a thick mortar on the bottom face generously, then lay your granite over the mortar. As for the other faces, you need pre-prepared thin layer of mortar.
Ensure that the bottom piece is level and even the side and top face.
Recommended read: Top 10 Benefits of Thermal Camera in Home Improvement
#15: How to Paint Brick Fireplace and Old Stone Wall
You can modernize an old stone or brick fireplace or wall by simply painting stones and leaving them look like stones.
First you need create a white wash the stones leaving the joints. This will bring about that stone texture.
There is no need to slap a layer of mortar over the stone, as that will make it lose the texture.
This procedure has been presented through the following video:
Like this Post? Then please Share it!