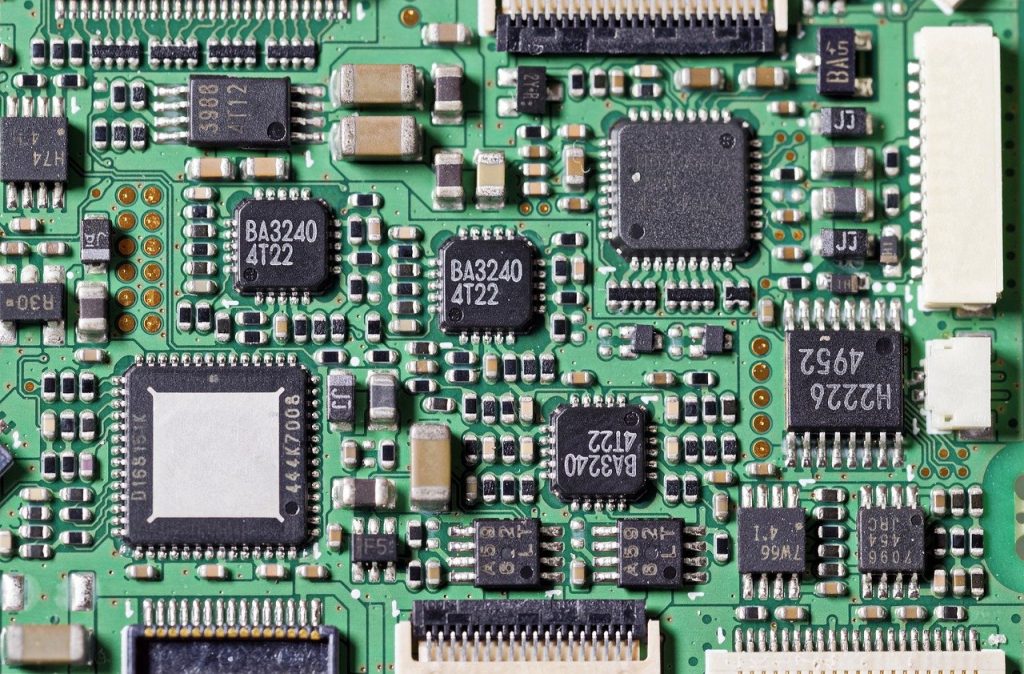 Mobile phone schematic diagrams and circuit board design in various electronic products are getting more complicated over the years.
Such complexity impose an ever-increasing challenge when it comes to trouble-shooting, especially when there are densely populated area packed with electronic components.
Here is where thermal imaging technology can become extremely handy.
Interested to see real-life examples on how thermal camera can help to repair mobile phone and inspect printed circuit boards?
Here are 15 awesome case studies that I'm sure you'll learn something new:


#1: iPhone 8+ Repair: Cannot Boot, High Current.
Below is a case study of iPhone repair by SuperFix, helped by using thermal camera to inspect the mother board and pinpoint the root-cause of high current issue.
As shown, the circuitry around CPU was found to have anomaly, so the CPU was removed for further investigation – that led to faulty capacitor replacement to solve the issue.
The iPhone 8 plus was successfully turned on after the repair, and back to normal.
#2: iPhone 6 Repair: No Power, Tristar, GPU Short.
Here is a real life example of iPhone 6 no power repair case study shared by NorthridgeFix, with the help of ammeter and Flir thermal camera.
During the debug process, one corner of CPU showed abnormal heat. The board and plate were then removed, with all the underneath components were inspected.
It was observed that the Tristar was getting hot, so this problematic chip was replaced and then the charging circuit was tested pass.
As the phone was still not fully working after the replacement of Tristar chip, further debugging found GPU short. Major capacitor components were subsequently removed as part of the elimination process to isolate the failure root-cause.
As you heard from the expert in video, it is recommended to use thermal imaging camera with 60 frames per second and 320 x 240 pixels resolution –
just like the FLIR E60 thermal camera that was used in the iPhone 6 repair shown above.
However, advanced thermal cameras that meet the specification of 60Hz frame rate are expensive, so most people will go for cheaper alternatives.



#3: Electronics Repair with Thermal Imaging Camera
In this video, Jerry Walker demonstrated how he used a FLIR TG165 thermal camera to fault find on electronic circuit board.
Jerry shared his experience of using finger to test the temperatures of various components to see if they were getting hot –
compared to how he used thermal camera to locate faulty component and hot spots on PCBs.
#4: Electronic Board Inspection – Fluke Thermal Camera
The following video by Roberto Poyato shows an example of electronic board inspection with Fluke Ti400 infrared camera.
The thermal imager allows you to see how an electronic board heats up, and how the temperature of its electronic component is increasing.
Such feature is welcomed by research and development professionals for PCB characterization, design verification, etc.
#5: iPhone X Won't Turn On – Repair with Thermal Imager
Here is a great video by REWA Technology, demonstrating the step by step guide on how to troubleshoot and repair an iPhone X that cannot boot up.
As shown, after the motherboard was taken out, touching the circuit board found that the NAND flash chip and its surrounding area are hot.
The subsequent thermal inspection showed C2647 was extremely hot, thus this component was replaced.
The phone turned on normally after this successful repair.
#6: Short Circuit Identification with FLIR C2
The video below, shared by 'The Active Region', shows an electronic inspection case study on how FLIR C2 thermal camera was utilized to identify a short circuit on PCB.
As mentioned in '5 Best Thermal Camera for PCB Inspection and Mobile Phone Repair' review guide –
the pocket-sized FLIR C2 with MSX technology is one of the 'best value' handheld thermal imaging cameras available on the market.
#7: iPhone 6 Mobile Phone Repair with FLIR One Pro
If you just want to get a very basic thermal camera for circuit board inspection and repair, then FLIR One Pro is a good budget option.
FLIR One Pro is a small thermal camera that you just need to plug it to your own Android / iOS device, then it will make your smartphone or tablet capable of visualizing heat.


The following video case study shows Flir One Pro thermal camera was used to inspect the electronic board of a malfunction iPhone 6 smart phone, followed by component replacement:
#8: Samsung Tablet Repair – Shorted Capacitor
In this video by AppleFix New Zealand, a dead Samsung tablet sm-t813 that cannot turn on was diagnosed to have shorted capacitor.
This was done with the help of thermal camera, without reference to any schematic diagram.
After faulty capacitor was replaced, the tablet was successfully turned on.
#9: Xbox One S No Power Diagnosis and Repair
This ~35 minutes long video by TheCod3r showed a case study of Xbox One S no power issue, in which FLIR thermal camera was used for diagnosis.
#10: PCB Diagnosis with a Low Cost Thermal Camera
The following video by Livyu FPV indicated a HTI HT02 handheld thermal camera was used to diagnose a PCB, whereby thermal view showed the location of broken MCU.
You can also make use of thermal camera for various home improvement projects, such as electrical panel inspection and energy efficiency audit in your house.
Check out 'Top 10 Benefits of Thermal Camera for Home Inspection' to learn more.
#11: Apple Imac Logic Board Fix: Short Capacitor
This video shared by FixAppleNow shows step by step repair of an Apple iMac logic board.
The computer has no power. With the help of Flir One thermal camera, it was detected that this Apple motherboard has a short on the pp5v_s0 rail.
The repair was successful after short capacitors were replaced.
#12: Short Detection: Thermal Camera vs Freeze Spray
This ~40 minutes long video by iPad Rehab is pretty interesting.
It compared the short detection capability of high-end FLIR ETS320 benchtop thermal imaging system, vs a SEEK Compact PRO thermal camera, vs freeze spray.
Who emerged as winner?
Check this out:
#13: Finding Short Circuits With a Thermal Camera
In this video shared by 'Grants Pass TV Repair' –
he demonstrated how a thermal imaging camera can be used in a similar manner as the freeze spray technique (to find electronic components that are overheating by freezing a portion of the PCB).
Recommended read: Electrical Panel and Hot Spot Inspection with Thermal Camera
#14: iPhone 6 Water Damage Repair with Cat S60
In this video by Ayman The Repair Tech, Cat S60 with FLIR thermal camera found the faulty component in a dead iPhone 6 that couldn't turn on after water damage.
The identified component caused a very small short (0.030A) with minimum heat generated.
A good catch by thermal imaging camera!
#15: iPhone Data Recovery with a FLIR ONE Pro
This ~38 minutes long video by Jason of STS Telecom shared a case study of iPhone data recovery using FLIR ONE Pro thermal imaging camera.
"This is a pretty unique situation… I have worked on thousands of phones and I have not ran into this before", he said.
Eager to find out more?
Here you go: