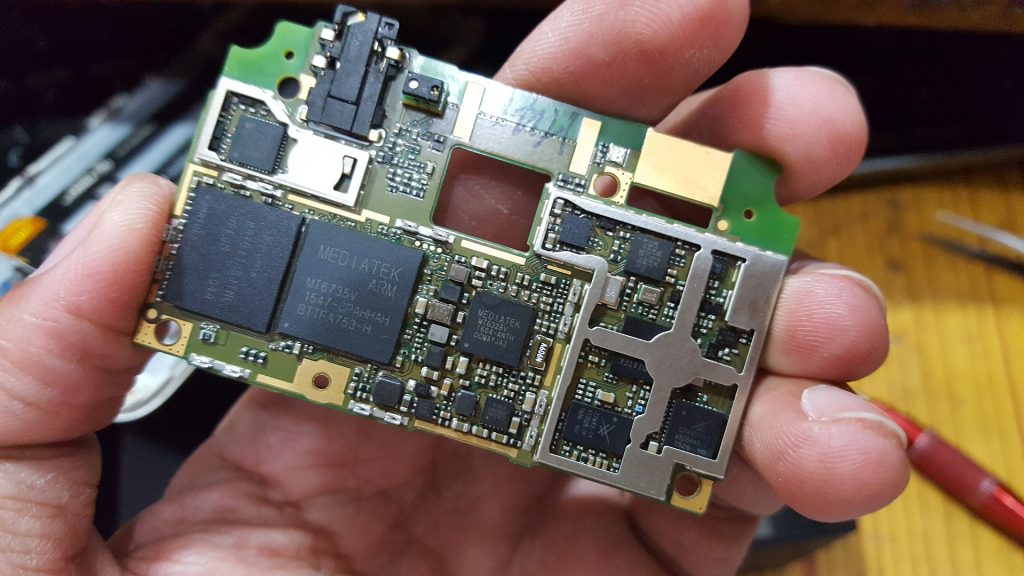 Printed circuit board designs and electronic components have significantly evolved over time.
With printed circuit board assembly is trending towards higher complexity with significantly smaller electronic components and more solder joints, trouble-shooting a PCB can be a daunting task.
The good news is, thermal imaging application has expanded from military sector to various consumer uses, with thermal cameras have become much more affordable nowadays.
This comprehensive guide covers the 5 best thermal imaging camera for PCB inspection and mobile phone repair, including video reviews and excellent real life case studies.


Benefits of Thermal Imaging For Electronics Inspection
Thermal imaging detects and measures invisible infrared radiation (heat) that is emitted from an object. By recognizing the tiny differences in temperature, a thermal imager translate various levels of infrared light into a visual image and display it on screen.
When you use an infrared thermal camera to inspect a circuit board, it can help to locate areas where a large amount of heat is being generated, allowing thermal anomalies to be easily identified.
By quickly pinpoint where a problem lies, thermal camera is proven to be an effective and time-saving tool to debug complex circuit boards, while speed up the repair of PCB and electronic components. Thermal imaging camera also allows safe non-contact temperature checks, eliminates the need to touch the PCBs and components thus removes the risk of short circuit or electric shocks.
Since thermal imaging can detect very subtle temperature differences, a thermal camera is also very useful for research and development professionals –
to reduce valuable debug time in circuit board design verification and characterization (eg. by quick identification of incorrect trace connections), hence reduce time to market.


Choosing Thermal Camera: Key Factors To Consider
When it comes to choosing a thermal imaging camera primarily used for circuit board inspection or repair, here are some key factors you should consider:
1. Thermal sensor resolution determines the quality of a thermal image. Thermal sensor with higher resolution generates image that contains larger amount of pixels per unit of area, and more pixels will present clearer and better image quality (especially for small objects).
Certified thermographer Devin Flynn shares his insights in this brief video:
2. If temperature measurement accuracy and sensitivity are critical for your work (eg. R&D), then choose a thermal camera that is capable to meet your needs in this aspect. For example, a professional thermal camera may detect subtle temperature differences smaller than 0.06°C, vs the 0.15˚C thermal sensitivity offered by a budget thermal camera.
2. Handheld vs benchtop thermal camera. If you just need a thermal iamger for quick scan of PCB to find anomalies, then a normal handheld thermal camera is good enough. However, if you need thermal imaging for long hours of operation (eg. in laboratory), then a benchtop thermal camera that offers hands-free usage will be more ergonomic and practical.


Best Thermal Camera for PCB and Mobile Phone Repair
Let's start by looking at the more budget friendly options for those who need a basic thermal imager without burning a hole in pocket, and then we'll also cover professional thermal imaging cameras specifically designed for electronic board and PCB testing in lab.


#5: FLIR One PRO Thermal Camera for Smartphone
As a pocket size device that can transform smartphone or tablet into an infrared thermal imager with non-contact temperature measurement ability —
The FLIR One PRO thermal imaging camera allows you to plug this small accessory to your Android / iOS device, and make it capable of visualizing heat.
You just need to attach this thermal camera onto the lighting port of iOS device or the USB port of Android device, then you'll have a gadget ready to find invisible problems for you.


This thermal imaging camera attachment features temperature range of -20°C to 400°C (-4°F to 752°F), alongside temperature accuracy of ±3°C or ±5%.
Equipped with 160 x 120 pixels thermal sensor at 8.7Hz frame rate, FLIR One PRO has two built in cameras – thermal imager that captures heat signals, alongside visual light camera that provides overlay and outlines a subject to give better idea of what is being looked at.
These camera setup, combined with FLIR MSX technology that adds visible spectrum details, generate good quality thermal images that are useful in many ways.


For examples, the following two videos show application of FLIR One PRO thermal camera for PCB inspection and electronic board repair:

Flir One - Video 1
In this case study, Robert Feranec used Flir One PRO to inspect a PCB. You'll see the look of an electronic circuit under thermal imaging camera.
Flir One - Video 2
This video demonstrates step by step repair of an imac logic board with a short circuit. With the help of Flir One PRO, a shorted capacitor was found.
Flir One PRO is equipped with its own built-in battery, so it will not reduce your smart phone's battery when it is plugged in.
With 1 hour of battery life and about 40 minutes battery charge time, this thermal camera is designed to withstand a 1.8 meters drop without damage.
Check out these >> user reviews to see what people say about FLIR One PRO.
#4: FLIR TG165 Spot Thermal Viewer
FLIR TG165 is the first ever imaging IR thermometer, which bridges the gap between traditional IR thermometers without imaging capability and FLIR's market-leading thermal imaging cameras.
This device is both a temperature measurement tool and a thermal imaging tool. Its thermometer provides a non-contact temperature reading, and its thermal sensor captures the infrared rays emitted from the object it is focused on – to generate thermal image that reflects how hot or cold the object is.
TG165 is equipped with Lepton micro thermal sensor that provides IR resolution of 80×60 pixels. Its 2-inch LCD display features color palates of hot iron, grayscale, and rainbow.


Additionally, this thermal imager also has dual rotating lasers that help users to visually estimate the location and size of whatever they are measuring, whilst an on-screen crosshair precisely identifies the region on the thermal image.
With an accuracy of ±1.5% or ±1.5°C, FLIR TG165 can measure temperatures ranging from -25 to 380°C. The screen can display the temperature in Fahrenheit and Celsius scales, whereby user can select the preferred temperature unit from menu options.
It is handy, intuitive to operate. If you point the TG165 at printed circuit boards –
not only that this spot thermal imager will tell you where the hot spots are, its thermometer will also indicate the temperature measurement reading of the hot spots, so that you know how much they are hotter than the other points on PCB. You can then figure out why it is so hot.


In this excellent video, Jerry Walker demonstrated how he used TG165 thermal camera to fault find on electronic circuit boards before electronics repair:
With a rugged design that can withstand 2-meter fall, TG165 has an internal rechargeable battery with over 5 hours battery life for continuous scanning. It also offers power management option that allows the device to turn off after a few minutes of inactivity.
FLIR TG165 comes with wrist strap lanyard, power supply with separate USB cable, and 8 GB Micro SD memory card. Memory expansion with a 32 GB card can be supported.


You can check out the user reviews and latest price of TG165 via below.
FLIR ONE Pro

Thermal Camera
160x120 Thermal Sensor
MSX Technology
-20 to 400°C (-4 to 752°F)
±3°C / ±5% Accuracy

1 Hour Battery Life
Mount to iOS/Android Device
( screen size and touchscreen
feature depend on your device )
FLIR TG165

Spot Thermal Imager
80x60 Thermal Sensor
No MSX Technology
–25 to +380°C (–13 to +716°F)
±1.5°C / ±1.5% Accuracy
5 Hours Battery Life

Standalone Handheld
2" Screen size

No touch screen
80x60 Thermal Sensor
MSX Technology
–10 to +150°C (14 to 302°F)
±2°C / ±2% Accuracy

2 Hours Battery Life
Standalone Handheld
3" Screen size

Touch Screen

#3: FLIR C2 Handheld Thermal Imaging Camera
FLIR C2 is the company's entry level model of full-featured thermal imaging camera that offers significant values.
Equipped with IR Lepton thermal core at 80 x 60 resolution (4800 pixels), Flir C2 has a built in visible light camera too.
These hardware, combined with FLIR proprietary MSX (Multi-Spectral Dynamic Imaging) technology, are capable to generate high quality thermal image with plenty of details, shown on its 3 inch color LCD with 320×240 pixels resolution and touch screen.
This pocket-sized handheld thermal camera also has a spotlight, emissivity measurement options, and a spotmeter that can be turned on or off according to the needs.


FLIR C2 is powerful yet user friendly enough that no proper training is needed to use it.
The standard FLIR C2 does not have Wifi feature, but you can choose FLIR C3 as the 'near-identical' thermal camera model that is Wifi-enabled – if you want to.
The video below compares the differences of FLIR C2 vs C3.
You can check out their user reviews and different latest price >> here to learn more.


Designed with a slim profile with dimensions of 125 × 80 × 24 mm and weigh only 0.29 lb (0.13 kg), FLIR C2 is really light and thus highly portable.
It is able to capture images in a temperature range of –10°C to +50°C (14 to 122°F) with accuracy of ±2°C (±3.6°F) or ±2%, alongside high sensitivity to temperature differences of less than 0.10°C.
You can easily capture the images through the use of the large button that is located on top of the FLIR C2 camera, which is capable to take JPEG images that store large amounts of radiometric information.
All temperature data are stored in the image, with the temperature of every pixel remains measurable whenever you want analyze it using the free FLIR Tools professional reporting software that comes with C2 purchase.
You can use this software to open the images captured by thermal camera, isolate temperature measurements on any pixel, and generate reports using these images.
C2 also offers auto rotation feature to view images in landscape or portrait form.
Different color palettes like Iron, Gray, Rainbow and Rainbow HC are available.


Watch the video case studies below to learn how you can make use of FLIR C2 thermal camera to inspect circuitry, and find short circuits on board packed with components.

Flir C2 - Video 1
The following video shows an electronic repair case study on how Flir C2 was used to identify a short circuit:
Flir C2 - Video 2
This is another case study that demonstrates Flir C2 was useful in short circuit trouble-shooting and circuit board test:
#2: FOTRIC 225 Pro Thermal Camera
FOTRIC 225 is a professional thermal imaging camera within the FOTRIC 220 series.
When compared to all the 3 FLIR thermal cameras mentioned earlier, FOTRIC 225 has higher sensor resolution of 320 x 240 (76,800 pixels). It also features a standard lens with the minimum detection distance of 0.15m, with adjustable focus.
The FOTRIC 225 thermal camera has a wide temperature range of -4°F to 1202°F which makes it able to cover most applications – including electronics, electrical inspection, experimental analysis, automobile, materials testing, fire detection and many others.
This thermal camera with 5.5″ HD touchscreen can be put into various different uses.
For examples, it can be used as an inspection equipment which is handled, whilst it can also be used as a laboratory work test bench with adjustable focus and also a longtime temperature test. It comes with an optional Fotric b3S 360° universal test bench platform.
FOTRIC 225 has great measurement accuracy of ±2°C or ±2%, which enables the device to achieve PCB quality assurance and factory acceptance.
Due to this high sensitivity to detect the differences in temperature, the device is able to easily and quickly detect faults and thermal gradients thus making it easier to take quick action.
Check out these >> FOTRIC 225 Pro user reviews to see what professionals say.


The FORTRIC 225 allows the user to take incredible radiometric thermal images and videos on the smartphone. It features a powerful battery with a long battery life of 10 plus hours. You can easily share the captured images and videos on various social media channels.
The Pro thermal camera also comes with very useful analysis software tools like the AnalyzIR, thermal data analysis which contains line profile, 3D graph, raw temperature data matrix and temperature history.
There is also the Support FORTRIC PdmIR software which intelligently manages data of thermal images, inspection task and equipment inventory.
The FOTRIC 225 in the analysis allows the user to generate a 3d graph of any two thermal images which facilitates faster and accurate analysis and provide a detailed report that is at the same time easier to understand.
The ability to perform on-site analysis of the thermal image and video on the smartphone really helps in saving a lot of time. This feature offers convenience after the thermal images and videos have been recorded.
Key features of FOTRIC 225 thermal camera:
• 320 x 240 resolution (76,800 pixels)
• Wide temperature range -4°F to 1,202°F
• Temperature accuracy of ±2°C or ±2%
• 15 color pallets which you can select from to customize your view.
• A battery that can last for 10 plus hours
• Free reporting software that can report up to 200 images at once.
• Easy to use on a smartphone.
• Can capture fully-radiometric thermal video stream with 76,800 pixels in each photo taken.


Here is the side-by-side comparison of FOTRIC 225 Pro vs FLIR ETS320 benchtop thermal camera that will be covered later:
80 x 60 Thermal Sensor
9Hz frame rate
–10 to +150°C (14 to 302°F)
±2°C / ±2% Accuracy

0.10°C Sensitivity
2 Hours Battery Life
Standalone Handheld
3" Screen size

320 × 240 color LCD

Touch Screen
FLIR ETS320

Thermal Camera
320 x 240 Thermal Sensor
9Hz frame rate

-20 to 250°C (-4°F to 482°F)
±3°C / ±3% Accuracy
0.06°C Sensitivity
4 Hours Battery Life
Benchtop / Test Bench

2" Screen size

320 × 240 color LCD
Touch Screen
FOTRIC 225 Pro

Thermal Camera
320 x 240 Thermal Sensor
30Hz frame rate

–20 to +650°C (-4°F to 1,202°F)
±2°C / ±2% Accuracy
0.06°C Sensitivity
10 Hours Battery Life

Handheld / Test Bench

5.5" Screen size

1280 x 720 HD Display
Touch Screen
#1: FLIR ETS320 Benchtop Thermal Camera
ETS320 is FLIR's first thermal imaging camera designed for PCB use and electronics testing on the bench, or in a lab environment. It is capable to perform a quick temperature check on printed circuit boards and electronic devices.
Ergonomically designed for bench-top work, this thermal camera with 3" LCD display comes assembled on a pole mount that is easy to set up and adjust. It connects to computer for instant analysis and thermal data sharing through the free FLIR Tools+ software.


With a highly sensitive infrared detector at 320 x 240 pixel resolutions, you can measure more than 76,000 data points of temperature measurement by simply pressing a button.
This can save significant time by avoiding all the work associated with thermocouples, and eliminating the guesswork of legacy measurement tools. The non-contact measurement method offered by thermal camera is also a safer approach, eliminating the risks that test measurement tools may accidentally damage the electronic components or board circuitry.
Such capabilities make FLIR ETS320 a great asset to research and development professionals for circuit boards characterization, design verification, and various modeling applications. It is also very useful for bench testing quality control and diagnosis, PCBA debugging, failure analysis, and factory acceptance testing on printed circuit boards.
Designed for close work, FLIR ETS320 with integrated test stand and sliding mount has the flexibility to be adjusted up and down –
so you can zoom in to image a variety of different smaller electronic components, or zoom out to image larger components or examine the entire printed circuit board set.
This electronic test bench camera with 45° field of view is capable to detect subtle temperature differences smaller than 0.06°C.
Such level of high temperature sensitivity allow you to quickly identify hot spots and potential points of failure on circuit board and electronic components.
With a wide temperature range of -4°F to 482°F (-20°C to 250°C) and temperature accuracy of ±3°C, this battery powered benchtop camera offers hands-free operation that allow you to focus on your work without the needs of continuously holding a handheld thermal camera.

Here are two videos that you can learn more about this benchtop thermal camera:

Flir ETS320 - Video 1
Want to know the application of thermal imaging in a repair center that specialize in repairing smartphones, tablets and notebooks from different manufacturers?
In this video, technical engineer Nicholas Marsot shares his experience of using this advanced Flir ETS320 benchtop thermal imaging system for PBA inspection and troubleshooting.
Flir ETS320 - Video 2
This video gives a comprehensive overview and demo on the FLIR ETS320 electronic test bench camera:
Review Summary: The Verdict
We've comprehensively gone through great thermal imagers that can help PCB inspection, electronics trouble-shooting, and cell phone repair.
Our top recommendations are:
Best Budget: FLIR One PRO thermal camera, mount on smartphones and tablets. Equipped with 80×60 thermal sensor, with the generated thermal images will display on your Android/iOS device' screen.
Best Value: Full featured pocket-sized FLIR C2 handheld thermal camera with MSX technology, thermal sensor at 80×60 resolution, 3 inch color LCD with 320×240 pixels resolution and touch screen.
Best Professional: FOTRIC 225 Pro thermal camera, capable to operate as hands-free lab work test bench, with adjustable focus. Equipped with high resolutions 320×240 thermal sensor, 5.5″ HD display with 1280 x 720 resolution. Able to measure 76,000 points at once.
We hope this guide is useful to help facilitate your purchase decision in selecting a great thermal camera that best fit your needs and budget.