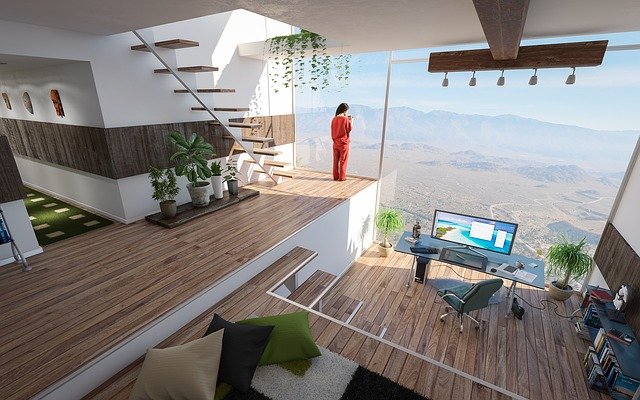 You know it's true:
Eco-friendly homes with high energy efficiency can save us big money in the long run.
Some people can afford to design and build a new house from scratch, whereas some people opt for energy efficient retrofit of existing building –
such as these 15 energy efficient home design ideas that you can get inspiration from.
From passive house, net-zero homes and tiny house to energy efficient home design ideas across United States / Canada / Germany / Australia / Romania etc – we got you covered.
Let's get started!


#1: How to Design an Energy Efficient Home
An energy efficient home is not only about heating and cooling as it also revolves around the design and layout of house, energy saving appliances, green technology such as the use of solar energy instead of fuels or non-renewable energy, and much more.
Recommended read: 9 Home Energy Audits with Thermal Camera – Save Big Money
Steve King, senior lecturer of architecture at the University of New South Wales, shares his insights in the video below:
#2: Secret of Energy Efficient Home Design
It is possible to enhance or adopt an energy efficient home by simply utilizing solar energy. This is where you use radiators to absorb or reflect heat depending on your interior needs.
The sun is normally positioned in different angles of the globe during the different seasons. There are different techniques such as glazing, shading and building layouts.
Shading is simply blocking the sun energy away, glazing is position the windows in the right angle during different season and finally, the building layouts should be in such a way they face the permanent positions of the sun.
Cameron Rosen, sustainable builder and consultant, shares more in this excellent video:
#3: Passive House with 90% Home Energy Reduction
A passive house can be energy efficient and you can actually reduce up to 90% of energy. To do this, we need to add extra insulation on walls, create a sealed layer around the building and preventing heat from escaping.
It is important to use insulating materials that will conduct heat and can actually store energy within the interior. This gives a warm room when the temperatures outside dwindles.
In video below, Alex and Sandra from BCIT's High Performance Building Lab in Canada shares more about different ways and 5 green building techniques to build home that use use less energy:
#4: Top 10 Most Energy Efficient Home in America
It is also possible to design a house that can actually reduce high energy bills to 43%.
The internal heating is enhanced by the windows facing the path of the sun, with these windows can actually allow heat in and do not allow it to escape.
To get more detailed ideas, have a look at these 10 energy efficient homes in America – compiled by Matt Risinger:
#5: Super Energy Efficient Net-Zero Homes
Amazingly, there is also the concept of net zero home, whereby a house is designed in such a way that it can produce the same energy as the energy it consumes.
One can actually choose to produce energy by using solar. That energy can be stored in batteries, for usage when needed. One may never pay any utility/power bill after adopting such an efficient design.
In this video, Peter Amerongen and Mike Turner revealed the history and secrets of building super energy efficient, solar-powered net-zero homes:
#6: Green Energy Efficient Passive Solar Home
The direction where the window glasses are facing do count to your energy efficiency.
In that case, the windows need to face the direction where the sun dwells, while high R-value glass are used to trap that sun heat in within.
Recommended read: Old House Insulation Ideas – 15 Awesome Case Studies
That is a cool green building design by Casey and Natasha:
#7: Modern Energy-Efficient Low-Maintenance Farmhouse
Here is a modern farmhouse in farm neighborhood, designed with low maintenance concept – for the owner who wants a simple and practical house for single man.
This energy efficient house is designed to meet the following guidelines:
Firstly, the windows should be wider and with a relatively huge height.
Secondly, the walls should be high to ensure that the sun rays can penetrate into the windows during winter.
Thirdly, there is need for an external veranda or a balcony that can be used to grasp the cool breeze during summer.
Do you like this modern farmhouse design idea?
#8: Build House For a Hot Climate
Unlike in a place where there is alternating season of hot and cold, it is crucial to make sure that you don't adopt a thick layered wall when buidling a house in hot climate.
No need for a triple or even a double glazed windows. All that is needed is a thin layered wall as well as a louvered window with a single layer.
Check out these recommendations from expert in Australia :
#9: Eco Friendly Small House in Romania
With unique gambrel roof design covered in wood shingles, this interesting house has big windows on the side and gable end, with wood pergolas shading the windows.
The house is also equipped with intelligent energy usage control system, rainwater collection and treatment system, heat recovery ventilators, etc.
#10: Tiny House Design Ideas and Energy Saving Tips
Other top energy saving tips include designing a house with passive solar energy, shade your house using climbing plans, proper framing techniques, insulate your home well, consider an efficient water heating system (avoid electric heating and adopt solar water heating systems).
Recommended read: Top 10 Benefits of IR Thermal Camera in Home Improvement
These few tips will save you from incurring unnecessary energy bills:
#11: Tiny House With Huge Solar System in Melbourne
You can actually disconnect yourself off the power grid by simply making sure that your lighting, heating and other energy consuming elements are done by solar power.
This requires, however, that you are located in a hot climate regions.
In the following video, Cloe and Glade have a tiny container house that powers itself using massive solar panels.
#12: The Science Guy Made his House Energy-Efficient
Bill Nye has retrofitted a house which can regulate heat on its own.
The color of his house is pale and this reflects sunlight; Low emissivity glass windows were installed, while he also adopted denim insulation that is better than fiber glass insulation.
And instead of using electricity for lighting and heating, solar power is used.
Check out his house in Southern California:
#13: Modern House – Efficiently Planned Energy Concept
In another modern house designed by Stephan Maria Lang –
the energy efficiency concept adopted usage of natural oak, concrete core cooling-heating, sun collectors, thermal heat pump, and controlled air ventilation.
Check out this energy efficient house located in Munich of Germany:
#14: Energy Smart Home Design Idea
There is also a H4 efficient home model with an upstairs room.
The upper room is about 80% covered by glass windows, and the ceilings are made with energy efficient material that can regulate heat loss and absorption.
Such a design has been shown in the following video by BRIO54, in which this building design has a DOE Energy Smart Home Scale score of 49, denoting it is 51 percent more energy efficient than the average new home built in America:
#15: Ultra-Low Energy House Design Idea
Triple layered wall (R-64) is also a great option to adopt for the wall. Far from that, there is need to adopt a triple glazed window.
These combination will bring about an extensive R-value. That means that there will be a total insulation and the interiors will maintain the natural heat for a relatively long period.
This video by Edmonton Journal shows an ultra-low energy house building design:
Like this post? then please Share it!