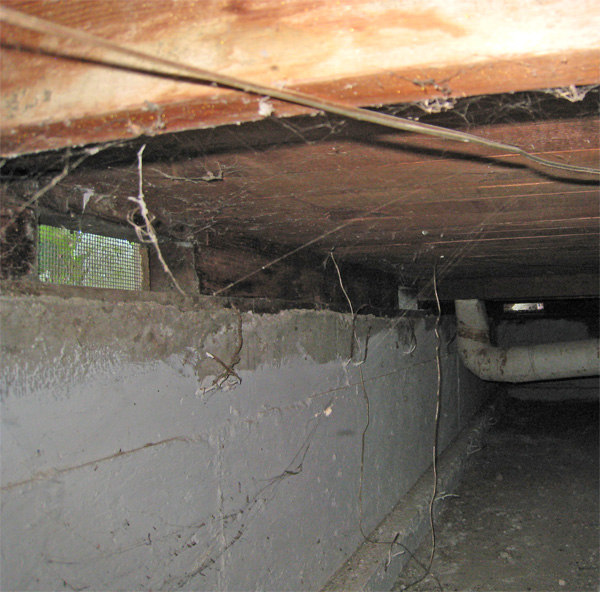 It's okay to admit it:
Crawl space is often an abandoned place where you only consider gaining access during repairs, or during installation of pipe at the basement.
The brutal truth is, your crawl space could be the biggest source of heat loss during winter that makes your house keep losing indoor heat, while it can also be a major source of heat gain in the summer that allows warm air to rise naturally into the living space above.
To help you reduce the unnecessary heating and cooling cost caused by crawl space insulation inefficiency –
Here are 15 awesome videos packed with actionable expert tips and case studies that you will certainly discover new improvement ideas!

Recommended Read: 9 Home Energy Audits – DIY and Save BIG Money!


#1: Crawl Spaces – The Good vs Bad by Matt Risinger
Bad crawl space have molds, moist and with poor air quality.
A good crawl space should be like a normal basement. Your duck work should have a vent holders, and your vents needs not to be sucking air from the crawl space. You moisture needs to be insulated to enhance air quality and do away with moisture.
In video below, well-known home builder Matt Risinger gives an excellent overview on what are the good and bad of a crawl space, alongside expert tips on how to build them better.
#2: FIVE Crawl Space Encapsulation Mistakes To Avoid
Most contractors you may hire to check on the issues of molds will consider the need to leave the insulation untouched. They may concentrate only on the visible places invested by molds.
But that is wrong, because molds can grow anywhere even behind your crawl space insulation material. Details on this as part of the top 5 crawl space encapsulation mistakes you should avoid are explained in the following video:
#3: Best Way to Insulate My Crawl Space?
One of the best ways to insulate your crawl space is actually with the use of R10 termite resistant foam board. The reason behind this is that this foam board is termite resistant and also designed to resist moisture as well as water.
Unlike fiberglass, foam boards do not allow mice and other things to live in your crawl space.
Check out the recommendation by Michael Church here:
#4: How to Insulate a Crawl Space with a Dirt Floor
Crawl spaces are without a doubt very dirty and very dusty. This is a factor that make people fear working from there. However, sooner or later, it needs to be insulated.
A good way to insulate such a basement is by the use of foil faced insulation. Foils are great choice as they never let heat in or out. It is also resistant to dirt.
Home renovation brothers Rich and Dave share their crawl space insulate tips in this video:
#5: Crawl Spaces – Interior vs Exterior Insulation
You could also consider insulating the concrete that is used to raise your house leaving a crawl space in between the ground and the ceiling of your crawl space.
Recommended Read: 15 Old House Insulation Tips and Ideas You Must Not Miss
You can insulate your concrete or stone course using a foam board. The interior of the crawl space may be insulated using foam board but the exterior need to be insulated using glass fiber material.
#6: Crawl Space R-21
Reflectix insulation / isolation is another option to insulate your crawl space ceiling and walls.
This is a shiny material that looks like an aluminum foil. It comes in 16, 24, 48 inch width by 25 inches. It keeps away the moisture from accumulating on the wood and it also prevents warm air loss from your house interiors.
Check out the video below that shows R-21 application with a double layer Reflectix reflective / bubble product:
#7: Northern Home – Understand Your Crawl Spaces
Before insulating you crawl space, it is better to understand your crawl space in terms of the size and the current condition. By doing that, you will be in good position to decide on the right insulating material.
You also need to check this space periodically against rot moisture and even molds so that you can take an appropriate sooner than later.
Watch the very informative video below to learn more:
#8: Crawl Spaces in Southeast Alaska
If you live in southern Alaska, then you would know that there is always a problem of excess moisture, and even about 8 inches of water in the crawl spaces.
In that case, problems such as these require you to ensure that crawl space is above two or three course of blocks. The wood should not be in direct contact with the ground.
#9: Insulation of Floors, Basements and Crawl Spaces
You can use the Owens Corning Blanket to insulate you crawl space. However, it is a good idea to always consider insulating the walls rather than the ceiling. You could also use unfazed blanket.
In both methods, simply attach the Owens Corning blanket and the unfazed blanket using cap nails so that one of the edges is attached to the top plate hence allowing the lower margin to droop down to the floor, as shown below:
#10: Unconditioned Crawlspace DIY Insulation Project with Owens Corning
Ownen's corning is easy to install and you can actually do it yourself. It works well in unconditioned crawlspace where there are no heating systems and air conditioners.
Once you install the corning material, you will not need to worry about heating your crawl space. That will save you energy and money.
Recommended read: Top 10 Benefits of using Thermal Camera for Home Improvement
This video shows step-by-step instructions for installation of Owens Corning Fiberglass for insulation, to provide the complete coverage under your house:
#11: Crawl Space Insulation Tips by Larry Janesky
The reason behind your crawl space being unbearable is because it is unconditioned and receives moisture during wet seasons as well as developing vapor during summer. That is why molds can thrive inside your crawl space very well.
In order to avoid that, you need to close all the vents and insulate using the right material such as Owens Corning and fiber glass material.
#12: Encapsulated Fiber Glass for Crawl Space Insulation
Sometimes, insulating your crawl space with foam is like telling the termites "you're welcome". Termites are known to use these foam insulators to access the wooden frames overhead.
In that case, you need to consider something durable and that is none other than encapsulated fiber glass insulation. It is reliable in thermal and sound control.
#13: Insulate Crawl Space Rim Joists With Foam Board
The Rim joists are also very tricky when insulating any crawl space. In that case, you may insulate your crawl space walls with fiberglass material but the rim joist needs a foam board.
It is important to make sure that you measure the right size when cutting the foam boards; that will minimize wastage and instances of small spaces between the foam board and the wooden frames.
#14: Crawl Space Encapsulation with Zero Perm Liner
According to HouseSmats, it is important to do a total crawl space encapsulation. However, total encapsulation means covering everything up.
It is advised to remove all organic material from the crawl space before that because if not, then you will have succeeded in providing a cool environment for mold to grow.
A great material for encapsulating is the zero perm liner, as shown in the video below.
#15: Removing Insulation In A Crawl Space
There are times when we may feel like our crawl space is actually stuffy and the insulating materials needs to be changed.
When removing the old insulating material, care needs to be taken so as to ensure that even the molds are removed. This normally happens to old houses but in order to make you crawl space new and modern, you need to consider a Nineteen Pauline Encapsulated installation.
Be sure to check underground seepage as well. If there is water getting into the crawl space, then consider blocking their entry points.
( Featured post image source and Credit: Newell Post / Wikimedia )