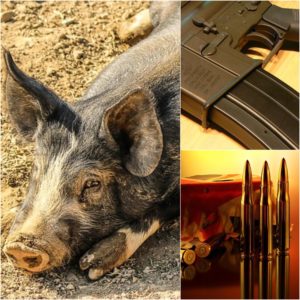 With the National Association of County Agricultural Agents (NACAA) estimated that feral hogs inflict as much as $1.5 billion damage annually in the United States, it's understandable that Americans are taking all the necessary steps to rein in the growth of annoying wild hogs.
Want to check out whether AR-15 and 223 are suitable and good enough for hog hunting, based on proven results?
Or you are already using these hunting calibers to take down hogs, but wanna know more to improve hunting experience?
We've handpicked some best related videos and put them together in this resource guide:
Hog Hunting With AR-15, .223, Thermal Imaging: 19 excellent video footage showing remarkable hog hunting moments that you will enjoy watching, including awesome shots from American Hoggers Tom Walker and Hans of HansETX.
AR-15 for Hog Hunting with 223: 22 videos on AR-15 for hog hunting, AR-15 setup and upgrade, AR-15 common problems and trouble-shooting guide, .223 Remington comparisons and test results, and much more.
Hog Hunting Tips: Whether you are a beginner or seasoned hunter who look for hog hunting tips, hear out some of the best advice in these 18 videos, including recommendations from experts like Keith Warren and Todd Huey of Lone Star Boars.
Hog Hunting Videos With AR-15, .223, Thermal Imaging
WARNING: These videos may get you excited and cause you to have an itch to grab your rifle straight away and head to the woods for hog hunting.
#1: AR-15 223 Boar Buster Hog Hunting – Awesome Shot!
American Hoggers Tom Walker tried out Freedom Munitions Boar Buster Ammo.
A nice clean kill shot!
#2: Huge Boar Hog Headshot | .223 and Thermal Scope
Hans of HansETX, an avid Texas hog and predator hunter, had the BIGGEST Boar Hog of his life with ONE SHOT —
using .223 Hornady Full Boar 50 Grain and FLIR Armasight Predator 336 thermal scope.
Huge 280 pound Boar Hog!
Recommended read: Best Thermal Rifle Scope Under $1000?
#3: BLACK HOG DOWN with AR-15
The following video footage was shot using HD Video-Recording Eyewear… COOL!
#4: Hog Hunting Texas Pocket Pigs: .223 Head Shot
Wild boar hunting by DnaHogHunter… with .223 at 100yds on 25lb boar or pocket pig.
#5: Hog Hunting with AR-15 .450 Bushmaster One Shot Kill
American Hoggers Tom Walker was hog hunting in Florida.
He took the hog down with an AR-15 Bushmaster with Styrka optics 3-9 Scope. Ammo used was Hornady FTX 250 Grains.
#6: Pulsar Trail XQ38 | .223 HOG SMACKDOWNS!
Hog hunts by Hans with DiamondBack DB15/AR15 .223, Hornady Full Boar 50 grain ammo.
Pulsar Trail XQ38, one of the best thermal scope for hog hunting, was also used.
#7: Hunting Wild Hogs At Night with Thermal Suppressor Tactical Guns and AR 15
Justin Rackley headed to the woods of east Texas to hunt hogs at night. The Hog Hitmen equipped the hunting gang with AR-15 guns, suppressors, and thermal imaging scopes.
Watch their hunting journey and hear what they said!
#8: YOUNG GIRL Killed Boar Hog with .223 – One Shot!
One shot kill by seasoned hunter is too common?
How about a young daughter's first hog kill, with .223 at 90 yards?
Check out this video from Central Texas!
#9: Hog Hunting with Liberty Ammunition's .223 Rem
A copper monolithic, deep cavity hollow-point with match grade accuracy.
The Liberty Ammunition's Silverado .223 Rem weighs 55gr and moves at over 3,000 FPS.
Check this out.
#10: Texas Feral Hog Down, AR15 .223 Head Shot
DnaHogHunter went feral hog hunting with Chase, Hogchaser85 and shot down a 95lb Boar.
He took another wild boar with a head shot, using S&W AR15 and Red Destroyer Hog Light from Sniper Hog Lights.
#11: 40 Hogs Down with AR-15 and Armasight Zeus Thermal
A Texas farmer used AR-15 to fight wild hogs and save his crops.
The footage below was recorded with the built-in video recording feature of Armasight Zeus as a great thermal rifle scope for the money.
#12: Texas Boar hunt / 75 grain /.223
Video footage uploaded by JS84Smile D.
Nice shots!
#13: Wild Pig Hunting with Rifle .223 Tikka
Shot at 30m with a Tikka T3 Lite using Horndy 55g V-Max.
Happened at Hunter Valley of New South Wales, Australia.
#14: HOG PROBLEM Settled with DiamondBack AR-15 .223
Texas hog hunting by Hans with a DiamondBack AR-15 .223 and Pulsar Trail XQ38 thermal rifle scope.
#15: AR-15 Hog Hunting Boar Buster Ammo: Down by 223
Hog down by American Hoggers Tom Walker with Freedom Munitions Boar Buster Ammo.
Great one!
#16: HORNADY .223 50 GRAIN FULL BOAR!!
Thermal hog hunting and field test using Hornady's hog hunting ammo.
.223 Hornady 50 Grain Full Boar shot down 4 hogs.
#17: Texas Hog hunting with Silencers and AR15
How did hogs react to a suppressed AR15 in open fields at night?
Watch the video below by Lone Star Boars… 280 pound hog!
#18: Hunting Texas Feral Hogs at Fence Line Crossings!
DnaHogHunter took a moving shot with his .223 at about 150 yards and hit the hog…
but he faced problem to recover the hog subsequently, watch the video and find out why.
Big Cutters!
#19: Shot Hog with .223 and PULSAR TRAIL XQ38 First Hunt!
Hans gave the hog a big Texas Howdy with a 62 grain .223 round right to the face.
Watch the hog's reaction after the shot!
---
AR-15 for Hog Hunting with 223: Ammo, Setup, Upgrade.
Want to know more about AR15 rifle and 223, including AR-15 Ammo and .223 Remington comparison, AR-15 setup and upgrade, trouble-shooting of AR15 common problems, and much more?
Check out these videos!
#20: AR15 Review: Tom Walker' AR-15 Eotech Boar Hog Hunt
Tom Walker did an review on his shooting gear, with wild boar shot and killed with Anderson AR-15 assault rifle full metal jacket.
Check out this video that took place in Florida.
#21: AR-15 PROPER Set Up Options With the Right Stuff
The Kotaboy32 Firearms guy gave an in-depth elaborations on how to set up an AR15 with all the options available.
#22: Optic Selection For AR15 Platform
Tom Fuller goes through some key consideration factors that you should take note when selecting optics for your AR-15.
#23: Best All Around AR-15 Build Ever!
Great video from Mrgunsngear Channel that goes through the details of this rifle, and why these different components were chosen for a great AR15 build.
#24: AR-15 Build for Hog Hunting
Onyx ATX guy from Austin, Texas, described his AR-15 setup for wild hogs hunting.
DPMS Oracle, Magpul furnature, Troy Industries front sight, Leupold 1-4x glass, polished trigger, and more.
#25: AR-15 Hog Rifle and Winchester Razorback XT .223
MaKemDroP25 shared his bushmaster carbon MaKem DroP AR-15 hog rifle, with the new Winchester Razorback XT. 223 ammo.
#26: AR15 Hog Gun Ammo xm193 vs Gold Dot
Video uploaded by EagleRun23 on some range results from his AR platform Hog Gun. Accuracy tests at 50yards Speer Gold Dot vs XM193.
#27: MUST KEEP VIDEOS – Diagnosing, Troubleshooting, and Treating AR-15 Problems
You definitely don't want to miss these 3 parts videos by Michael Bell, and keep them for your future reference.
Simply excellent!
#28: What is the Best Cartridge for AR-15?
Excellent video by TiborasaurusRex!
#29: AR-15 Rifle Tripod: Building Your Own Cheap Rifle Tripod
The Full Throttle Outdoors guy revealed how he built his own rifle/hunting tripod for AR-15.
#30: How To Setup Your AR | Assault Rifle Shooting Tips
Tactical Rifleman gave his insights, including the purchasing of air rifle, adjustable stock, iron sights, power magnification, the best way of setting up your AR, shooting tips, and more.
You don't want to miss this great video.
#31: AR-15 Setup for Non-Operatin' Dudes
See how the Clang and Bang guy likes to setup his go-to fighting rifle.
#32: Hog Hunting Ammo Comparison
Lone Star Boars reviewed various hog hunting ammo and munitions in video below.
#33: AR-15 Commerical Hunting Loads .223 Remington
Check out what andrewsails1371 said.
#34: The Best Hog Hunting Round
The God family and Guns have their say on the best hog hunting round and ammo.
#35: Remington Hog Hammer 223 Barnes Triple Shock X Clear Gel Ammo Test
The GunDestruction guy was testing the Remington Hog Hammer Ammunition 223 Remington 62 Grain Barnes Triple-Shock X Bullet Hollow Point.
Shooting was done at 100 feet using a Ruger American Ranch 16″ Bolt Action Rifle.
Excellent video!
#36: Hornady 55 Gr. Vmax 223 Results!
Video from the West Desert Shooter who tried out the Hornady 55 Gr. Vmax. Testing H322 and Varget powder. Loaded into Federal 223 Brass and ignited by CCI 400 sm Rifle primers.
#37: Testing at 200 and 300 Yards – 223 Hornady VMAX 55 gr Varmint Express
An interesting video from tnoutdoors9 who tested this out with a .223 Bushmaster Varminter AR15 at 200 and 300 yards.
#38: Speer LE Gold Dot 223 64gr GDSP Ballistics Gel Test
Good comprehensive test by Mrgunsngear on this Gold Dot 223.
#39: Budget Precision .223: Results and Conclusion
Gavin Gear shares his Budget Precision 223 project in this video.
#40: Do You Need a .308 AR for Hog Hunting?
If you are currently using .223 for hog hunting, check out this video.
Kevin Jarnagin discussed the benefit of using a .308 over a .223 for hog hunting, using the Stag 10 and 10S AR10 rifles.
#41: .223 vs 5.56: What is the difference?
Langley Firearms Academy compared .223 and 5.56 – both have similarities but there are a few key differences.
---
Hog Hunting Tips For Beginners and Seasoned Hunters
We've arranged these last 15 videos to start from "hog hunting tips for beginner" and progressively end up with the more advanced "hog hunting tips for seasoned hunters".
We believe you can surely pick up a thing or two from these excellent recommendations!
#42: For Beginners — Picking Your Pig Hunt Rifles
Not sure how to choose your hunting rifle? Listen to The Military Arms Channel team.
#43: How To Hog Hunt – Rifles and Caliber Choices
Todd Huey, hunting expert of Lone Star Boars, shares his insights in video below.
#44: Where To Shoot Hogs? Mistakes To Avoid.
Hogs are tenaciously hard to kill, so where to shoot a hog for a clean kill?
Clear illustrations below.
#45: Hog Hunting 101 | Tips on Hunting Wild Boar
The Do's and Don'ts tips for first-time boar hunters.
#46: Gear Tips for Hunting at Night
Keith Warren shows you everything you need to be successful when hunting at night.
Check out these PULSAR Helion monocular and PULSAR Trail thermal riflescope mentioned in the video; These are the best mid-range thermal imaging gadgets for hogs hunting.
#47: How To Own Night Hog Hunting for Exceptional Results?
Lone Star Boars outlines what it takes to be exceptional successful to hunt hogs at night.
Very interesting intro!
#48: Can Night Vision Compete with Thermal for Hog Hunting?
In video below, the Ultimate Night Vision guys compared several Pulsar thermal imaging scopes/monoculars vs night vision technology (without using supplemental IR illumination) under various night hunting conditions.
They recommend thermal imaging over night vision for hunting, as thermal imagers that can be used in complete darkness offer far superior detection capabilities over night vision.
Watch the video below to see the differences:
#49: Hog Hunting Strategies: What To Look For
How to hunt hogs during the day?
Lone Star Boars shared professional tips on what to look for, and where to look for hogs in the daytime.
#50. Proper Carcass Disposal
A brief but important video for beginner hunters.



The videos above are too basic for you?
Let's continue with some advanced hog hunting tips!


#51: Scent Control During Hog Hunting
Some advanced hog hunting tips regarding scent control.
#52: Shooting Moving Targets
Sometimes you would need to trigger a shot against moving hog, and this video shows you some tips on how to make your shot counts.
#53: How To Make A Hog Roll Barrel
Useful barrel hog feeder tips from Lone Star Boars.
#54: Secret Recipe of The #1 Hog Hunting Bait!
In this video, Hans revealed his Best Hog Hunting Bait's secret recipe that consistently attract hogs night after night.
Don't miss it!
#55: Hog Hunting Tips and Tricks – Behind the Scenes Footage
Cool behind the scenes video footages from 4B Bowhunting Outdoors.
#56: Three Breathing Techniques For More Accurate Shooting
Abby Casey demonstrated 3 ways to control your breathing when aiming at a target.
( Hint: It's not as simple as breathe in, breathe out. )
Which one works best for you?
#57: Feral Hog Control Tips Using Suppressors
Learn how does Lone Star Boars use suppressors to turn hogs away from cover and give more shot opportunities to the hunters.
#58: Hog Anatomy – Advanced Hog Hunting Shot Placement
Want additional tips on where to shoot a hog?
Here is a great instructional video by Keith Warren.
Learning the anatomy of a hog can help you to make good clean shots.
Youtube notes from Keith: "WARNING: GRAPHIC FOOTAGE – Do not watch this video if you are squeamish, or do not want to see the insides of a hog."
#59: Ultimate Controversial Way To Kill A LOT of Hogs At Once
Check this out: 9 Shocking Explosion Videos that Blow Up Hogs with Tannerite
Bonus Video: Real Texas Hog Hunting – A Crazy Fun Night!
We can't help but to include this video by LunkersTV and Lone Star Boars.
A great hog hunting video – with over 9.9K Youtube Likes… Whoa!



Did you enjoy watching these videos? Which of the above is your favorite?
Leave comments below and share your thoughts!