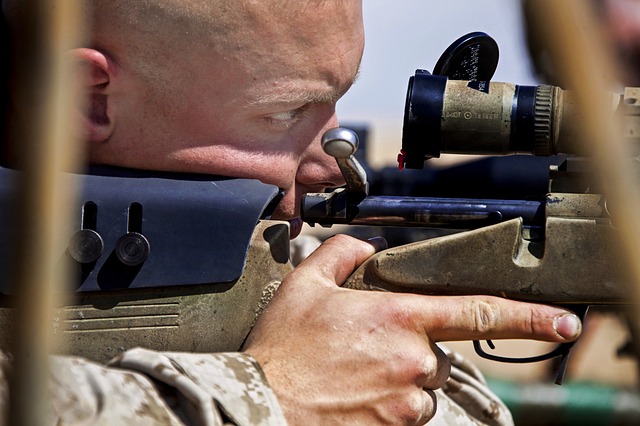 It's OK to admit it:
You'd love to add a night vision gadget to your hunting gear arsenal to help locate target in the dark with optimal accuracy –
however you have tight budget, or you simply don't want to spend a fortune on it.
Well, the good news is, you are not short of options.


Here are the top 5 excellent choice of "cheap affordable" night vision rifle scope under $500. They have the best features and supported by positive user reviews:
This post contains affiliate links that we may earn a small commission from your purchases.


1. BEST VALUE: SightMark Wraith HD Digital Riflescope
A high quality riflescope at an affordable rate.
Sightmark Wraith HD 4-32×50 digital rifle scope includes 10 reticle and 9 color options, so you can quickly customize it to fit your shooting preferences and surrounding conditions.
Combining high resolution 1920×1080 CMOS sensor with 1280×720 FLCOS display and 8x digital zoom capability –
this magnificent scope with daytime color mode and night vision mode gives the user a clear, fast targeting, and sharp contrast view of the prey at 200 yards (183m) detection range.
Its built-in HD video recording function with high resolution of 1080×720 pixels allows you to record your hunting experience, and share it with your family and friends!

SightMark-Video-1
SightMark-Video-2
SightMark-Video-3
A rugged, compact, and waterproof riflescope that is easy to carry and move around with.
It also features dust cover for front lens, 850nm IR illuminator, and 5 weapon profile saves.
Hands down SightMark Wraith HD 4-32×50 with excellent value is the best affordable night vision rifle scope for $500 budget, that you don't want to miss out.
Check out >> 400+ Impressive User Reviews of this SightMark scope to Learn More
Here are >> More User Reviews indicate this scope is one of the Best Rated products



2. Firefield NVRS 3x 42mm Gen 1 NV Riflescope
This is an all-rounded riflescope that can be used in a wide range of activities: Shooting sports, law enforcement, surveillance, security or even hunting.
With its Illuminated Red Duplex Reticles to enhance precision and in-built IR Illuminator to enhance vision –
This light-weight FF 16001 NVRS 3X42mm Gen 1 Night Vision Riffle Scope provides unparalleled vision during the day and also during the night.
This night vision riflescope has 150m (164 yards) detection range, 45mm eye relief, and 20 hours of battery life.
Other key features include: 3X Magnification, quick detach weaver mount, and robust design to ensure durability.
You can check out its 450 user reviews >> here to Learn More.



3. BEST POPULAR: ATN X-Sight II 3-14x Riflescope
This product is designed and manufactered by ATN Corp – the US industry leader in high-performance Night Vision and Thermal Imaging optics such as night vision rifle scopes, thermal imaging binoculars and goggles, etc.
HD video recording capability and detection range are the key reasons that ATN X-Sight II is a popular choice among this price range, and makes it stand out vs all the other night vision rifle scopes in this list.
You have the opportunity of recording your great shots courtesy of Recoil Activated video or RAV, which allows you to stay completely immersed in action and at the same time capturing those memorial moments right after you pull the trigger.
By recording your excellent shots and hunting experience, you can playback the high resolution videos to watch it yourself or share it with others!
This ATN X-Sight II Day/Night Riflescope makes your work easier with elevation, 3-14X magnification, Gallery and WI-FI streaming to ensure you can connect it with your smartphone and share those experiences live on YouTube and other live streaming channels.
This same scope ATN rifle scope can be used during the day and during the night. It does well up to 600 yards at night and the distance can be longer during the day.


Other key features of this advanced night vision rifle scope:
Ultra HD Sensor with Obsidian IV Dual Core processer.
Sighting-in is made easy by the One Shot Zero functionality.
Comes with 3D accelerometer, E-Compass, 3D Magnetometer and built-in GPS.
Battery with ultra-low power consumption which gives it 18+ hours of use.
The following excellent demo video comprehensively covers the details that you need to know about the ATN X-Sight II Day/Night riflescope:
Who does not like the dual-stream video with full HD quality of ATN X-Sight II?
Watch the 3 videos below to learn more about this scope, including actual hogs / coyote hunting videos recorded using it, so that you know what you will be getting.
You can check out its 830+ user reviews at >> Amazon.
While its latest price may change (to above $500) from time to time depending on seller, a drawback is that ATN is discontinuing this X-Sight II HD digital rifle scope –
with ATN X-Sight 4K Pro is fast becoming the "go-to" budget ATN NV riflescope now, however it is an upgrade that costs more than $500.


As the latest ATN flagship smart digital day and night vision rifle scope, ATN X-Sight 4K Pro is equipped with all the great features that you can find in the previous generation ATN X-Sight II – and even more powerful.
For examples, ATN X-Sight 4K Pro 5-20x features Ultra High Definition 4K day/night sensor that provides enhanced image quality, dual stream video function that simultaneously streams video and record to SD card, etc.
Check out these >> 380+ user reviews to see why ATN X-Sight 4K Pro is highly rated
The 3 videos below demonstrate side by side comparison of ATN X-Sight 4K Pro vs ATN X-Sight II:

ATN-Video-1
ATN-Video-2
ATN-Video-3
4. Night Owl Optics NightShot Digital NV Riflescope
This NV riflescope is built around a 640X480 CMOS digital vision sensor. Its sensibility extends from 900nM with infrared region to 400nM at the edge of blue light. What this means for you is that the scope has a wide sensitivity range that helps you hunt both during the day and during the night.
It is ready to use right after opening the box, and the good thing is that setting it on the firearm is easy. You can mount or unmount this waterproof riflescope on your firearm using its built-in weaver and picatinny rail system.


Other key features:
High resolution, 640X480 display.
3X magnification for clear zooms and clean shots.
The package also comes with a built-in infrared illuminator weatherproof.
It can take a clean shot of up to 200 yards in typical nighttime environments.
Rubber eyecup and built-in objective cover.
Riflescope comes with 4AA batteries for that extra power.
Check out the >> user reviews and latest price of this NightShot NV rifle scope.


5. CHEAPEST Option: Bestsight DIY Digital NV Scope
Shoot long and short distances with confidence and record every moment with this riflescope.
It features hunting night vision for both the night and day targeting, and provides a color view during the day. High quality night-captures also gives you an intact visual experience that allows user to target small and big signatures in complete darkness.
For a small target, 30 to 40 yards of shooting range can get them without a miss.
The device is easy to use, mount, and unmount.
With 360 degree adjustable camera, this riffle scope can be adjusted to pick on some clear details, and also focus on signatures whether finer or bigger.
If you are looking for the absolutely cheapest night vision rifle scope available on the market, then this Bestsight DIY is the one that you should go for.
However, while the price is cheap, its relatively lower user review ratings is a drawback.
Check the latest price and user reviews of Bestsight DIY Digital NV Scope >> here.



Best Night Vision Rifle Scope Under $500: The Verdict
Our top recommendation is Sightmark Wraith HD 4-32×50 digital rifle scope with high resolution CMOS sensor, FLCOS display, and video recording function.
The price point of Sightmark Wraith HD offers excellent value, in which you can also check out its superb user reviews that support our recommendation.


Sightmark Wraith

HD Digital Riflescope

If you don't mind to pay a bit more to get a fantastic night vision rifle scope with longer detection range of 600 yards (549m), then the high performing
ATN X-Sight II
will make your hunting heartwarming and memorable.
The very popular ATN X-Sight II offers advanced features that most hunters out there are looking for. It allows you to hunt your game with confidence, and record real time hunting moment in HD video for you to share those memories with your friends and relatives with clear images and high density videos.



Like this Post? Then Share it!